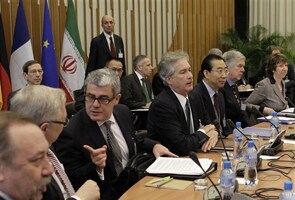 Washington:
Iran has invited Russia, China and several European Union members to visit its nuclear facilities this month, but pointedly snubbed the United States, European diplomats said on Monday.
The invitation -- which seemed calculated to divide the alliance of nations opposed to Iran's nuclear ambitions before the next round of negotiations over the program -- was swiftly dismissed by the United States.
"It's a clever ploy, but it's not a substitute for Iran's responsibilities to the IAEA," said the State Department spokesman, Philip J Crowley, referring to the International Atomic Energy Agency, which has been locked in an increasingly tense standoff with the Iranian government over its enrichment of uranium.
"It won't draw international attention away from the issues regarding Iran's nuclear program," Mr Crowley added, noting that its enrichment activities violated six United Nations Security Council resolutions.
The European diplomats said the invitation was not likely to be accepted, if at all, until after the next round of negotiations, expected to be held in Istanbul at the end of this month.
"This is something that in principle could be interesting, but not before the next round of talks," said one diplomat, speaking on condition of anonymity to discuss the confidential deliberations. "This seems like Iranian tactics: they would like to put up a smokescreen and link things that can't be linked."
The Iranian letter was sent to Russia, China, members of the European Union, and other countries. The United States would normally be included in such a group, as it negotiates with Iran, along with the other permanent members of the Security Council -- Britain, France, Russia and China -- as well as Germany.
"There's no invitation in our in-box," Mr Crowley said.
The United States has assembled a coalition to impose sanctions on Iran, unilaterally and through the United Nations. But Russia and especially China still maintain commercial ties with Iran, and they have voiced reluctance about further tightening the economic vise on Tehran.
The Associated Press, citing an unidentified diplomat, said Iran was offering access to sites at Natanz and Bushehr, as well as meetings with two top officials involved in the program: Ali Salehi, the acting foreign minister who oversees it, and Saeed Jalili, the chief nuclear negotiator.
That would appear to rule out a visit to the enrichment facility near the holy city of Qum, the existence of which was disclosed by the Obama administration in late 2009 and has come to symbolize Iran's murky intentions.
Natanz, another site for uranium enrichment, has also long concerned international inspectors. But the Bushehr nuclear plant, which is being built with Russian technology, is viewed as less of a threat since it operates under safeguards. Iran insists its entire program is for civilian power generation.
Last month, Iran held two days of largely unproductive nuclear talks with the United States and other countries in Geneva. The atmosphere was frosty, said diplomats who took part, and there was no separate meeting between the American and Iranian representatives.
The Geneva meeting was organized by Catherine Ashton, the European Union's high representative for foreign affairs and security policy. But this invitation was sent to European representatives at the atomic energy agency's headquarters in Vienna -- including Hungary, which just took over the presidency of the European Union -- rather than to Ms. Ashton, a diplomat said.
Normally, he said, when Iran does something like this they immediately publicize it. The Associated Press said this letter was dated Dec 27.
Stephen Castle contributed reporting from Brussels, and Steven Erlanger from Paris.