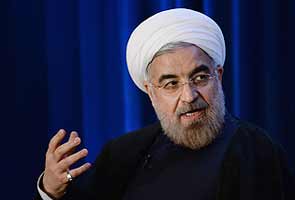 United Nations:
President Hassan Rowhani said on Friday that Iran would present a plan next month to resolve concerns over its nuclear program and vowed never to deviate from promises to the West.
Iran's self-described new moderate president was closing a hectic week at the United Nations where his foreign minister held landmark talks with the United States.
At a closing news conference, Rowhani said that Iran would present a proposal in talks with six major powers scheduled for October 15-16 in Geneva.
"Iran will prepare that plan and will present it in Geneva. We hope it will serve as an even more effective step to settle the nuclear issue," Rowhani said.
Rowhani said he hoped to resolve the nuclear row in a "short period of time," a day after Foreign Minister Mohammad Javad Zarif said that major powers had set a goal of a deal within one year.
The soft-spoken cleric swept to power in June, succeeding the firebrand Mahmoud Ahmadinejad, on promises to ease tensions over Iran's nuclear program, which has triggered a crippling US-led campaign of sanctions on Iran.
Western nations and especially Israel, which has not ruled out an attack on Iran, have voiced fear that the clerical regime's sensitive uranium work is a covert attempt to build a nuclear bomb.
Israeli Prime Minister Benjamin Netanyahu has branded Rowhani a "wolf in sheep's clothing." Israeli officials frequently cite Rowhani's remark that Iran moved ahead with work on a uranium enrichment site in Isfahan while he served as nuclear negotiator a decade ago.
Rowhani rejected the allegations of duplicity, saying he had been up front that Iran would complete the Isfahan facility and in fact cooperated with the International Atomic Energy Agency.
"We have never chosen deceit as a path. We have never chosen secrecy," Rowhani told the news conference.
"We have acted transparently. What we say today is what we will remain committed to," he said.
"We say explicitly that we do not seek a bomb. We say explicitly that we believe the building of a bomb is dangerous for us, for our region.
"We will never deviate from our commitments," he said. "We want to provide more assurances if necessary to the world that our program will remain peaceful."