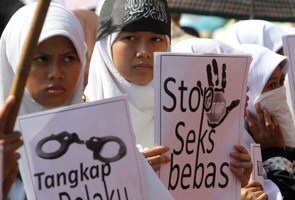 Gili Meno, Indonesia:
As one of the heads of the Indonesian Internet Service Provider Association, Valens Riyadi knows he has his work cut out for him.
Last month, the country's information minister, Tifatul Sembiring, said that local service providers would have to start blocking online pornography by the Muslim fasting month of Ramadan, which starts Aug. 11. That deadline is fast approaching, and Mr. Riyadi says he still has no idea how he is going to put a filter in place.
"It's really a hard thing to do in technical terms," he said. "For me, it's almost an impossible task."
Mr. Sembiring has won plaudits for pledging to curb online pornography in this Muslim-majority democracy of 240 million people, and for following regional peers like China, Thailand and Singapore into the fraught world of Internet screening. But the problem, Mr. Riyadi says, is that the minister's plan is really no plan at all.
No official decree has been issued, no list of banned sites has been published and no details have surfaced on who will pay for monitoring and screening of Web sites. The minister has, however, threatened the roughly 230 Internet service providers in Indonesia with closure if they fail to block pornographic sites for the country's 40 million Internet users.
Mr. Riyadi, laughing with exasperation, said service providers might be able to scrape together a block of "famous pornographic Web sites" in the coming weeks -- roughly 10 percent of such content. Service providers might be able to block 50 percent of online pornography in the months ahead, he said, if they were lucky.
The debate over Internet screening here has been intense. Early this year, Mr. Sembiring proposed a decree that would impose screening of sites with illegal content, including pornography, gambling and blasphemy. He based his proposal in part on two laws concerning information technology and pornography that were passed in 2008, but the announcement led to howls of opposition from secularists and free-speech advocates.
The uproar from civil society groups and in the rambunctious Indonesian media, one of the freest in Asia, prompted Indonesia's president, Susilo Bambang Yudhoyono, to rebuff the plan.
But in June, a series of videos emerged online that allegedly showed the popular rock singer Nazril Irham, known as Ariel, having sex with two female celebrities.
Amid the wild popularity of the videos and blanket media coverage of the scandal, in which the celebrities and a number of other people were declared suspects accused of breaking laws on criminal pornography and indecency, Mr. Sembiring revived the screening plan -- this time with backing from the president.
Mr. Sembiring says the plan will work, and in time for the fasting month. During an interview, he said that service providers would adopt a government keyword filtering system known as Trust Positif, which is already in use in many of the government's computer networks.
"Not all of the sites, all of the pornographic content, will be gone from the Internet," said Mr. Sembiring, a politician from the Prosperous Justice Party, a conservative Islamic group that is a member of the president's governing coalition. "But step by step, we're trying to filter pornographic content."
The filter would begin with pornography and would later be expanded to other undesirable sites. Since the keyword list has already been in use for government departments, he said, "I think after one month, our frequency of updating will be low."
But for Mr. Riyadi, of the I.S.P. association, the plan is simply unworkable. Blocking sites by keywords might be feasible for small networks, but it is a tricky task for larger ones, he said.
Service providers would have to collectively spend as much as 500 billion rupiah, or $56 million, to install proxy, or intermediate, servers to house the filters, he said.
Mr. Riyadi added that the proxy servers might not even work, and that if they did, it could slow the access to overseas Web sites by 20 percent to 30 percent, he said.
Mr. Riyadi said the way forward would be for the government to put together a list of blocked addresses, a laborious process that would involve tens of millions of restricted pages.
But such a list has not been made public, despite requests. "I guess he's gotten the wrong technical data from his staff," he said.
For Hasan Yahya, a business consultant and blogger, the screening plan threatens both free speech and Indonesia's Internet industry.
Although there are hundreds of service providers in the country, the majority of people are clients of Telkom, the state-linked giant, and a handful of other, private operators.
Making service providers assume the burden of screening will squeeze smaller operators hard, Mr. Yahya said.
Mr. Sembiring "is a Taliban copying what he thinks he knows from China," Mr. Yahya said. "It's hardly the example that we want to copy for this young and fragile democracy."
Besides, Mr. Yahya said, the plan is so vague and technically unfeasible that it will probably not even work. Unlike China or Singapore, Indonesia, with its roughly 17,000 islands, has no centralized Web infrastructure and has several links to networks overseas.
"I'd bet you my little finger nobody could make it happen," Mr. Yahya said. "Not in the next few months, not in the time frame the minister wants, before Ramadan."