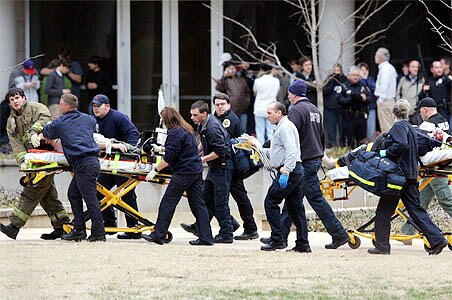 Alabama:
An Indian-American professor hailing from Andhra Pradesh was among three people killed when a woman lecturer allegedly opened fire during a faculty meeting at a university in Alabama after learning that she had been denied tenure.
The incident, which also left three people injured, occurred at the University of Alabama at Huntsville (UAH) on Friday evening.
Huntsville police chief Henry Reyes identified the Indian-American professor as Gopi Podilla, who was the Chairman of the biological sciences department. The other two killed, Maria Davis and Adriel Johnson, were associate professors of biology.
Podila is an alumnus of the Acharya Nagarjuna University near Guntur in Andhra Pradesh. Podila's research interests included functional genomics of plant-microbe interactions and plant molecular biology and biotechnology.
The varsity's registrar M V Narasimha Sharma said Podila did his Post Graduation from the university between 1977 and 79 and that he was a gold medalist. "He was a proud student of this university. We felt very sad on hearing the news and we express shock and grief over the death of Podila. We have lost a very good alumni," he said in Guntur.
According to media reports, Amy Bishop, also a professor and one of the star researchers of the university, had opened fire at a biology faculty meeting held to decide her tenure.
Police did not give the reason behind the incident, but local television WAFF, citing authorities, said the woman resorted to shooting at the biology faculty meeting after learning that she would not be granted tenure.
42-year-old Bishop was charged with murder, which means she could face the death penalty if convicted, the media said.
College spokesman Ray Garner told reporters that two of the three people injured remained in critical condition while a third was in stable condition at a Huntsville Hospital.
Of the wounded, two were faculty members and the third was a staff member. None of the students were harmed in the incident.
Reyes, who did not identify the accused, said a woman shooting suspect was in custody and a second person was detained, but not arrested.
"We have a suspect and possible person of interest," he told reporters last night. "Until we go through everything, we're not going to say exactly how many or who we have."
The incident is reported to have occurred shortly before 4 p.m. in Shelby Hall on the university campus on Friday evening.
Police arrived at the scene at 4:01 pm (local time) and residence halls were locked down at 4:10 pm, Reyes said, adding the building was secured by 5:45 pm.
Erin Johnson, a second-year student, told the Huntsville Times that the biology faculty meeting was underway at the Shelby Centre when she heard screams coming from one of the rooms.
San Francisco Chronicle reported that Bishop, the key suspect, was being held along with her husband Jim Anderson.
Bishop, who joined the faculty in 2003, and her husband are credited with inventing a mobile cell incubation system touted as a replacement for the old-fashioned petri-dish.
University President David Williams had predicted in November 2008 that the couple's InQ device would "change the way biological and medical research is conducted," according to a blog posting on 'Huntsville Times'.
"She was just really passionate about what she was doing, and very energetic," Stuart Obermann, a former board member of the BizTech technology incubator, said of Bishop. "I'm really quite shocked," he was quoted as saying.