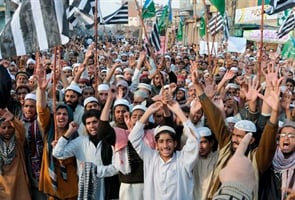 Peshawar:
Rallies took place in Peshawar and Faisalabad on Sunday in support of Pakistan's strict blasphemy laws that stipulate death for those insulting Islam.
About ten-thousand supporters of the Islamist Jamaat-e-Islami party gathered in the northwestern city of Peshawar for a sit-in outside the provincial assembly.
In Faisalabad, meanwhile, a large crowd of activists from Islamist political parties held a demonstration in the city centre.
Pakistani Islamist groups called for the strikes and rallies this month despite assurances by the embattled ruling Pakistan People's Party that it would not pursue any changes to the laws.
The long-standing laws against blasphemy gained new attention when a Christian woman, Asia Bibi, was sentenced to death in November 2010 for allegedly insulting Islam's Prophet Muhammad.
The sentencing attracted local and international condemnation.
Prominent among the critics was Punjab Governor Salman Taseer, who was gunned down by one of his bodyguards, Mumtaz Qadri, earlier this month.
Qadri later told media he was motivated by Taseer's stance on the laws.
Addressing the crowd in Peshawar, Syed Munawar Hasan, the president of Pakistan's main Islamist party Jamaat-e-Islami, said people with "a religious spirit" would stand up against criticism of the laws from the United States and Pope Benedict XVI.
Benedict has spoken out against the blasphemy laws, saying they should be repealed because they were being used as a pretext for violence against non-Muslims.
In Faisalabad, Abdul Rehman Makki, a leader of the banned Islamist charity Jamaat-ud-Dawa, said Muslims would "never tolerate any disrespect for the prophet".
The US and the UN believe Jamaat-ud-Dawa is a front for Lashkar-e-Taiba, the militant group accused of planning and carrying out the attacks in Mumbai in 2008.
The Pakistani government, which is struggling against Al-Qaida and Taliban militants, has stated it has no plan to amend the blasphemy laws.
Analysts say the government is too weak to pick a fight with Islamist forces, which are able to rally thousands of people on the streets even though their political parties only have a few seats in parliament.
Dozens of Pakistanis are sentenced to death each year under the blasphemy law, but most cases are thrown out by higher courts and no executions have been carried out. However, some who are accused end up being killed by extremists.