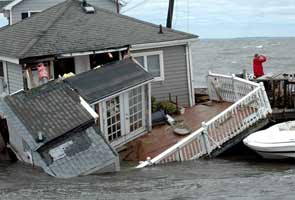 New York/Washington:
The death toll in the US from Hurricane Irene has risen to 21 as President Barack Obama today warned Americans that their ordeal is not yet over as it may take weeks for the recovery from devastation caused by the storm throughout the East Coast.
"I want people to understand that this is not over. Response and recovery efforts will be an ongoing operation," Obama who cancelled his vacation told reporters as losses from the Hurricane mounted to about US $7 billion.
The majority of the losses are expected to be from property damaged in New York and New Jersey. The states affected by the Category 1 storm are North Carolina, Virginia, Pennsylvania, New Jersey, Connecticut and Florida.
"I do want to underscore that the impacts of this storm will be felt for some time, and the recovery effort will last for weeks or longer," Obama said.
"Power may be out for days in some areas, and we will support our state and local partners in every way that we can as they work to restore power in those areas," he said.
The death toll in the US from Irene has risen to 21, US media reports quoted officials as saying. New York subways were due to slowly resumed service today but passengers were expected to face delays and overcrowding.
Airlines said about 9,000 flights had been cancelled, but services into New York and Boston were due to resume today.
Obama urged his countrymen in affected areas to continue to listen for the guidance of their state and local officials. Secretary of Homeland Security Janet Napolitano said the administration will be dealing with the impacts of this storm over the coming days, and she asked Americans to take prudent steps to stay safe.
"Now, dealing with a storm like this requires a three-phase approach: preparation, response and recovery. Some states and communities are still currently responding, while others are beginning to assess their damages and plan for recovery," she said.
The US East Coast has begun clearing up after the devastation of tropical storm Irene, which killed at least 21 people.
The storm is now lashing Canada's north-east, after causing severe flooding in the US and leaving some five million homes without power.
But New York was not nearly as badly affected as state officials had feared.
The brunt of Hurricane Irene's impact was felt by towns and suburbs from New Jersey to Vermont. Driving rains and flood tides damaged homes and cut power to more than three million people in New Jersey, Connecticut and New York.
Hurricane Irene was earlier downgraded to a tropical and then a post-tropical storm. The storm, downgraded from a hurricane, passed New York on Sunday.
More than 300,000 people evacuated from low-lying areas in New York City are heading home.
The New York Stock Exchange said it would be open for business on Monday and officials at the 9/11 memorial at the World Trade Center site said they had not lost a single tree.
In Philadelphia, officials lifted the city's first state of emergency since 1986. Several buildings were destroyed by the storm, but there were no deaths or injuries.