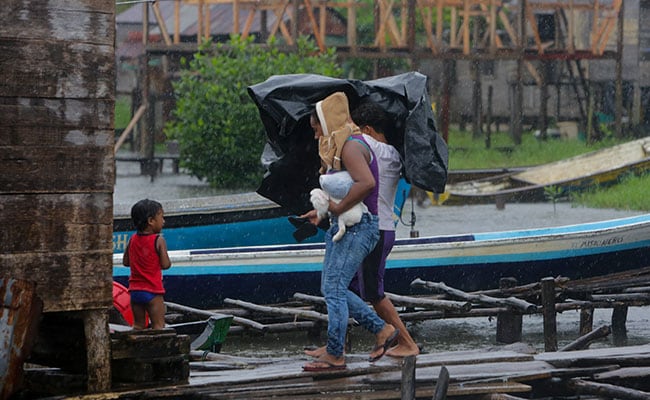 Bluefields:
Central America suffered a hurricane and offshore earthquake at the same time on Thursday, triggering alarm in Nicaragua, El Salvador and Costa Rica but no immediate reports of any casualties.
Nicaragua was caught in the middle of both events, with Hurricane Otto, a storm packing winds of up to 175 kilometers (110 miles) per hour at the time, plowing into its Caribbean coast while the 7.0 quake occurred in the Pacific Ocean, off its other coast.
Nicaraguan President Daniel Ortega declared a national emergency to handle both potential disasters.
But hours later, there were no reports of any widespread destruction, only of fallen trees and electrical cables, and a few collapsed roofs from the storm.
El Salvador ordered residents along its Pacific shore to move inland. But it and Nicaragua soon lifted tsunami alerts they had issued as a precaution.
Otto was forecast to churn its way westward, through southern Nicaragua and possibly northern Costa Rica, unloading rains the US-based National Hurricane Center (NHC) said were likely to cause "life-threatening flash floods and mudslides."
Exterior bands of rain and winds had caused the deaths of four people in Panama early in the week as the storm had gathered force at sea.
But its projected path on Thursday was to take it through sparsely inhabited rural areas, and it was to weaken to a tropical storm Thursday before exiting into the Pacific.
The Miami-based NHC, in a 2100 GMT bulletin, said Otto's winds had slowed to 100 miles (155 kilometers) per hour in Nicaragua, down from the 110 mph it had when it made landfall.
Satellite images showed Bluefields, Nicaragua's main Caribbean city, bearing the brunt of the hurricane, but there was almost no wind or rain.
An AFP journalist there said there was even some sunshine.
"We haven't lost any lives. Things are going well. We think that tonight (Thursday), people should be able to start going back to their homes," said a government representative in Bluefields, Lumberto Campbell.
'High Vigilance'
In San Juan de Nicaragua further south, the town closest to where Otto made landfall, there were reports of strong wind and rain, with fallen trees and electrical cables, and roofs torn off -- but no deaths or injuries.
Neighboring Costa Rica, which had been fearing its first direct hit from a hurricane since records began in 1851, also showed little damage.
The government had declared a national emergency, closed schools, sent non-essential workers home for Thursday and Friday, and evacuated around 4,000 people from its Caribbean coast.
Vigilance remained high in Nicaragua and Costa Rica, however, given the risk of mudslides in coming days from the storm's rains.
In El Salvador, following the quake, officials scrambled to evaluate the possible damage. The task was made more difficult because some telephone lines in the capital San Salvador had been cut.
(This story has not been edited by NDTV staff and is auto-generated from a syndicated feed.)