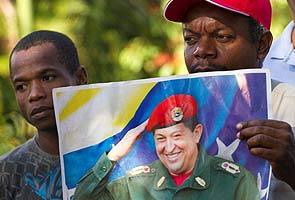 La Paz, Bolivia:
Venezuelan President Hugo Chavez is undergoing physical therapy to return home from Cuba, where he has been convalescing from cancer surgery, Bolivian President Evo Morales said on Tuesday.
Morales, who made the announcement in a report to the Bolivian Congress at the start of his eighth year in office, said he had been in contact "with Cuba" on Sunday and Monday. He did not provide more specifics about the source of his information.
"Our brother, commander Hugo Chavez, is now in physical therapy to return to his country," he said.
Chavez, 58, has been the force behind an alliance of leftist Latin American governments formed to counter US influence in the region, and Morales is a close ally.
The Venezuelan president, who has not been seen in public since undergoing a fourth round of cancer surgery in Havana on December 11, was too sick to return to Caracas to be sworn in to another six year term on January 10.
In recent days, however, Venezuelan officials have said his condition has improved, despite complications from surgery that included a severe pulmonary infection which resulted in a "respiratory insufficiency."
On Monday, Foreign Minister Elias Jaua said after visiting him that Chavez was joking and giving orders.
"Compatriots just leaving a meeting with our Commander President Hugo Chavez. We shared some jokes and laughed," Jaua said via Twitter.
"He made decisions on our participation in the CELAC Summit. So happy we are moving forward," added Jaua, referring to an upcoming summit of Latin American and Caribbean States this week in the Chilean capital Santiago.