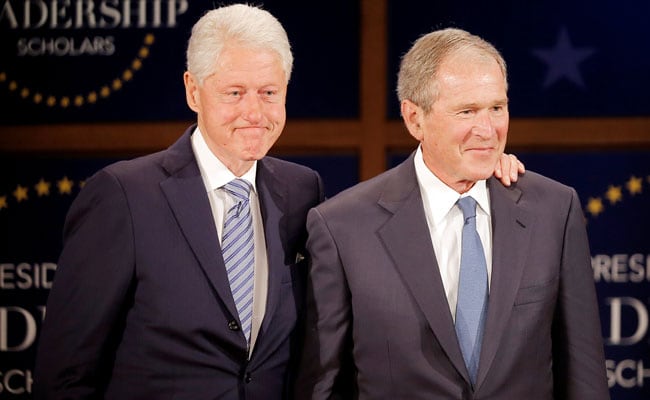 Highlights
Bush-Clinton hostility dated back to 1992 US poll
Bill Clinton had unseated father of George Bush in the 1992 election
George Bush's daughter Jenna Bush has called Bill Clinton "Uncle Bill"
At his presidential library in Dallas on Thursday, George W. Bush sat for an hour with his predecessor, Bill Clinton, and tried to convey the depths of their friendship.
Bush called Clinton humble, and respectful. He went further. He called the former president his "brother with a different mother" - not the first time he's used that term for the man who unseated his father, President George H.W. Bush, from the Oval Office.
As if in reciprocity, Clinton posed outside the library between two oversized statues of Bush and his father, peek-a-boo style, as if he were the baby of this fictive harmonious family.
It was popular, that photo of the 42nd U.S. president wedged between statues of 41 and 43. It spoke not just to the sequence of their presidencies but to the endurance of their friendship, which has by now been so well publicized you might forget it was once nearly unimaginable.
"I've been governor of Texas. My daddy was president! I owned a baseball team!" President Clinton told a room of giggling donors in the summer of 2000, impersonating Bush as he campaigned for the presidency.
Clinton, of course, held the White House at the time - and went so far in his mockery as to adopt the Republican's Texas twang, according to the book "The Presidents Club" by Nancy Gibbs and Michael Duffy.
The elder Bush responded to the jab in lieu of his son: "If he continues that, then I'm going tell the nation what I think about him as a human being and a person," George H.W. Bush said, per CNN.
We can only imagine what he would have said.
The Bush-Clinton hostility was a multigenerational thing in those days. It dated back to the bitter 1992 race in which Clinton unseated the elder Bush - who had called him a "bozo" and implied that Clinton had Soviet ties - and it continued through the sex scandals of Clinton's presidency, to which the younger Bush styled himself as an antidote.
"The Presidents Club" recounts the time the younger Bush once gave a speech at his father's presidential library, with Clinton in the audience, and pointedly noted that his father "left office with his integrity intact."
In his occasional visits to the White House, Bush made no attempt to hide his scorn, Clinton would tell interviewers, according to the book. "He's never forgiven me for beating his father," he said.
Rapprochement began just days after the 2000 election, according to "The Presidents Club" - when President-elect Bush flew to Washington and shared a 90-minute lunch with Clinton. On the cusp of taking the White House back for his family, Bush elected to go humble.
"With all due respect," he reportedly told Clinton, "you used not to be so great a speaker. You're good now."
Clinton was a famously gifted public speaker and Bush an infamously clumsy one. And here he was, asking his rival for tips. As a show of good faith, it worked.
"Bush really connects," Clinton told friends after the visit, Gibbs and Duffy write in "The Presidents Club."
They would continue to connect throughout Bush's first term, sharing brief, friendly interactions at public events, with reports of occasional phone calls behind the scenes.
"The years have done a lot to clarify the strengths of this man," Bush said of his predecessor as Clinton's official portrait was unveiled in 2004. "He filled this house with energy and joy. He's a man of enthusiasm and warmth who could make a compelling case and effectively advance the causes that drew him to public service."
Then it was Clinton's turn for humility: "Mr. President, I had mixed feelings coming here today," he said. "And they were only confirmed by all those kind and generous things you said.
"Made me feel like I was a pickle stepping into history."
The two men had already come a long way from veiled slights and open mockery, but they had not yet become the hand-holding, shoulder-slapping odd couple of 21st-century fame.
It would take an act of God - or two, or three - to make Bush and Clinton actually become friends.
The first was a tsunami in the Indian Ocean in the final weeks of Bush's first term. It killed tens of thousands of people and left the administration trying to figure out how to help coordinate a massive aid effort. A few days later, "The Presidents Club" recounts, Bush called his father and Clinton to the West Wing and gave them a mission: Go to Asia, ask the locals how best to help, then come home and raise money.
If there was any lingering resentment over their 1992 race, it apparently vanished during the elder Bush and Clinton's long plane trip and four-day tour of a disaster zone. Clinton would later describe the opportunity to work with Bush Sr. as "one of the greatest gifts of my life."
As Gibbs and Duffy put it, "Once back in the States, the two men became an item." Clinton and Bush Sr. played golf together for charity. They talked on the phone after Clinton had surgery. And they reprised their partnership when Hurricane Katrina hit New Orleans.
They were so close by 2006, Gibbs and Duffy write, that as Bush Sr. passed through New York one day he spontaneously ordered his motorcade to reroute, telling an aide: "I'm gonna visit Bill."
Clinton wasn't in town at the time, the book recounts. So Bush Sr. walked into his office, put his feet on Clinton's desk and phoned him: "Hey Bill, nice office . . . where are you, anyway?"
It was only a matter of time before comity spread throughout the family.
George H.W. Bush was in his mid-eighties by 2010, when an earthquake devastated Haiti. He was too old to brave another road trip, according to "The Presidents Club," so suggested his son as Clinton's traveling buddy.
The two men were slightly shy about partnering at first, the authors write; the elder Bush had to ask President Barack Obama to formally invite them to make the trip together.
But they went to Haiti, and helped raise tens of millions of dollars for relief, and inevitably began exchanging gifts. "Bush sent Clinton foodstuffs from Texas; Clinton liked to send books and music," according to the authors.
Family matriarch Barbara Bush, whom a younger Clinton had liked no more than he liked her son, according to the book, now calls Clinton her son's "fourth brother," Bush told an interviewer in 2010.
Bush's daughter Jenna Bush has called Clinton "Uncle Bill."
- - -
Last Thursday was not Clinton's first chummy visit to Bush's presidential library. The last time, the two men slumped back in their chairs like old friends after dinner, occasionally leaning over to share a laugh or grasp wrists.
"Presidential bromance," CBS News quipped then. Maybe.
"I love you," Clinton told the elder Bush in 2011 at a ceremony in honor of the man he once beat for president. "This man whom I'd always liked and respected, then run against in a painful campaign, in some ways I literally came to love," Clinton explained. "Then I realized how much energy we waste fighting with each other over things that don't matter."
The junior Bush and much of the rest of the family listened to these words from the audience. After the event, according to "The Presidents Club," the Bushes all gathered for a family photo.
Clinton watched, standing around with the family of another former president, Jimmy Carter. Then a Bush called out: "Bill! Bill!"
So Clinton took his place in the photo - near the back, with the grandkids.
(This story has not been edited by NDTV staff and is auto-generated from a syndicated feed.)