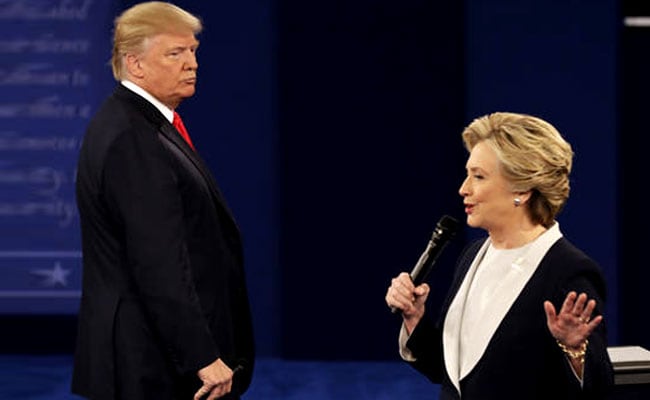 New York:
Former Democratic Presidential candidate Hillary Clinton has ripped into US President Donald Trump, drawing parallels between him and former president Richard Nixon whose presidency she said ended in "disgrace" with his "impeachment" for obstruction of justice.
Ms Clinton, who returned to her alma mater at Wellesley College in Massachusetts yesterday to give a commencement speech 48 years after she graduated, referred to the mood on the campus following Mr Nixon's election as President in 1968.
"And by the way, we were furious about the past presidential election of a man whose presidency would eventually end in disgrace with his impeachment for obstruction of justice after firing the person running the investigation into him at the Department of Justice," Ms Clinton, 69, said to thunderous cheers from students.
Through her comments on "impeachment" and "obstruction of justice", which drew the loudest cheers, she made a thinly-veiled attack against 70-year-old Mr Trump for firing former FBI Director James Comey who was leading the investigation into links between Trump's campaign team and Russia's meddling in the Presidential elections.
She seemed to suggest through her remarks that if Mr Trump obstructs justice, he could see his presidency end in disgrace with his impeachment.
Ms Clinton told students of the Class of 2017 that they were graduating at a time when there was a "full-fledged assault" on truth and reason.
"Just log on to social media for ten seconds. It will hit you right in the face. People denying science, concocting elaborate, hurtful conspiracy theories about child-abuse rings operating out of pizza parlours, drumming up rampant fear about undocumented immigrants, Muslims, minorities, the poor, turning neighbour against neighbour and sowing division at a time when we desperately need unity," she said.
In another dig at Mr Trump and his obsession with the size of the crowd at his inauguration, Ms Clinton said some people were even denying "things we see with our own eyes, like the size of crowds, and then defending themselves by talking about quote-unquote 'alternative facts'".
She also attacked the Trump administration budget, calling it a "con" and "an attack of unimaginable cruelty on the most vulnerable among us, the youngest, the oldest, the poorest, and hard-working people who need a little help to gain or hang on to a decent middle class life".
"It grossly under-funds public education, mental health, and efforts even to combat the opioid epidemic. And in reversing our commitment to fight climate change, it puts the future of our nation and our world at risk. And to top it off, it is shrouded in a trillion-dollar mathematical lie. Let's call it what it is. It's a con. They don't even try to hide it," she said.
Ms Clinton asserted that all these issues matter because "if our leaders lie about the problems we face, we'll never solve them. It matters because it undermines confidence in government as a whole, which in turn breeds more cynicism and anger", she said.
Ms Clinton also joked about her loss in the presidential elections.
"Now, you may have heard that things didn't exactly go the way I planned. But you know what? I'm doing okay. I've gotten to spend time with my family, especially my amazing grandchildren. I was going to give the entire Commencement speech about them but was talked out of it. Long walks in the woods, organising my closets, right?," she said.
(Except for the headline, this story has not been edited by NDTV staff and is published from a syndicated feed.)