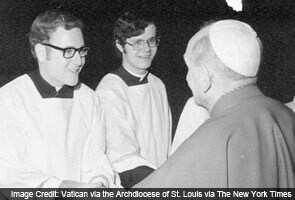 Vatican City:
He keeps a set of vestments here, at the American seminary, so he doesn't have to lug the red robes back and forth to New York. He is a practiced frequent flier - last fall, he flew a round-trip in a day, borrowing a billionaire's jet so he could preside at a dinner in New York without missing a meeting in Rome. And he keeps careful tabs on both cities - last weekend, in Rome to bid farewell to one pope and help choose the next, he ducked into a priest's office to watch a streaming webcast of Yankees and Mets spring training.
Cardinal Timothy M. Dolan, the archbishop of New York, has become an object of fascination in Rome for the fluency of his juggling act - he is simultaneously head of the United States' most prominent Catholic diocese and president of its national conference of bishops, tapped by the Vatican for numerous prestigious assignments and by network television anchors for their most prized interview spots.
In the weeks since Pope Benedict XVI announced his intention to retire, the possibility that Dolan could succeed him has been largely dismissed on the theory that his biggest strengths - outsize personality, Everyman affect, relentless public cheer - mark him as distinctively American in a way that makes it unlikely he would be chosen by his colleagues. But in recent days, his joyful and telegenic orthodoxy is getting new attention in Rome; on Thursday, a prominent Vatican reporter, Sandro Magister, highlighted his qualifications, calling him "the consummate candidate, who represents the impulse in the direction of purification."
Dolan has colourfully dismissed speculation that he could be pope, insisting that he expects, and is eager, to return to New York. Nonetheless, this interregnum between popes has become a crucial period for him, presenting an opportunity for him to use mass media to reach Catholics in his vast and diverse archdiocese, and to elevate his stature as he faces battles with President Barack Obama over health insurance regulations and with Gov. Andrew M. Cuomo over a proposed liberalization of New York's abortion laws.
He shows an easy demeanour - he is unfailingly positive, even when asked difficult questions - but even he is quick to say that he represents a new style, not a new point of view, for Catholic bishops. In an interview here, before the cardinals decided to stop speaking to the media, he described the church's teachings as a gift to be treasured, but said, "let's perhaps work on a way to wrap it in a more attractive way."
Named a bishop by John Paul II and a cardinal by Benedict XVI, Dolan warned against anticipating change in "timeless truths of the faith" from a new pope.
"When we use the word 'tradition,' it's not only a song from 'Fiddler on the Roof,' it happens to be a very powerful teaching," he said.
Dolan, 63, is one of the most junior members of the College of Cardinals; granted his red hat only 13 months ago, his seating at meetings, and even his position in the procession to the conclave, will reflect his lack of tenure.
But he has repeatedly won votes of confidence from his peers - the American bishops elected him their president in a surprise vote in 2010; in Rome, global bishops elected him among three North Americans to continue their work on "new evangelization" after their synod last fall. Most significantly, earlier last year he was tapped by Benedict to deliver a keynote address to the full College of Cardinals; "I was very impressed by him," said one of those in attendance, Cardinal Wilfrid F. Napier of Durban, South Africa.
"In the sense that he's only been in New York for a couple of years, there's a little bit of untested quality about him," said Edward N. Peters, a professor of canon law at Sacred Heart Major Seminary in Detroit. "But if you look back at the synod of bishops in October, just about every time bishops were allowed to vote for one of their own, not only was he elected, but he was usually elected far and away."
A native of Missouri, Dolan has spent more years in Rome than in New York - as a seminarian, he studied at the Pontifical North American College and then he served as that institution's rector from 1994 until 2001. He speaks Italian (although he described his fluency as "primitive" last year), happily offers Roman restaurant recommendations, loves to walk the cobblestone streets. But he is less Romanized than many cardinals, and even the cardinal's biggest fans say his biggest strengths in the U.S. - his fondness for beer and barbecue, his physicality and exuberance - define him as American in a way that is a liability in a church headquarters that at times views the New World with a combination of condescension and disdain. "Italians don't understand him," said one Vatican official, speaking on the condition of anonymity because he was not authorized to speak to the news media. "They don't like people joking on serious occasions, warming the crowd," he added.
But his fellow cardinals seem to marvel at the impact of what Cardinal Edward M. Egan, who preceded Dolan as archbishop of New York, described as Dolan's "million-dollar personality." His affect is particularly striking in an era when the church is often on the defensive in the public square.
Cardinal Sean P. O'Malley, the archbishop of Boston, said that when he served as bishop of Fall River, he decided to send as many seminarians as he could to the college in Rome because Dolan was the rector.
"His great joy in being a priest is something I wanted my seminarians to experience," he said.
Dolan has some of the attributes of a gifted politician - he remembers names, works crowds, checks in. During a visit to a New York synagogue, he put his right arm on the left shoulder of each person he greeted - some adults he hugged, some babies he held. During a walk through Kennedy International Airport, he greeted each worker, pausing as some kissed his ring, posing for photos with others. The high and mighty are charmed, too - it was the billionaire real estate investor Mort Zuckerman who lent him a plane to get back to Rome last fall.
Bishop Terry R. LaValley, who heads the sprawling upstate New York diocese of Ogdensburg, said Dolan would call at random times, just to check in.
"Sunday morning at the gas station, the phone rings - it's Cardinal Dolan; New Year's Eve, 'How are you doing?"'
He is masterful at small talk, frequently turning to food ("I can taste the carbonara as we speak," he exclaimed at JFK) and sports ("They didn't look too good yesterday," he said of the Yankees). And he has a strikingly contemporary worship style - short homilies, conversational tone, informal language - which contrasts with the erudite and occasionally bombastic tone associated with earlier generations of prelates.
Cardinal Donald W. Wuerl, the archbishop of Washington, who taught the future archbishop of New York when he was still a seminarian, said Dolan's outgoing style and ability to project enthusiasm are huge assets to the church back home.
"There's a sense in which he's ideal for New York, because there is so much energy in New York, you just associate that with New York: everything, the Great White Way, people being up all the time, and its self-identification as the centre of the world," he said.
But Wuerl cautioned against expectations of an American pope. "There's an old Roman saying: 'You never put limits on divine providence,' so Lord knows what will happen, but I think there's always the great caveat of, can anyone, right now, from the United States, ever effectively serve and be that voice, because the temptation would be that an American would be identified with America first, and the see of Peter and the chair of Peter second," he said.
And some Vaticanisti - the small band of commentators who closely watch high-level church affairs - say that in the unlikely event that an American does become pope, it is more likely to be O'Malley, whose humble mien, facility with languages, Capuchin habit and experience responding to sexual abuse have impressed insiders.
Dolan said he does not know, nor he is he particularly concerned about, how he is assessed by other cardinals. "In my mind, what I care most about is what God thinks about me, and whether I'm doing his will," he said. "I also have to say, I'm always wondering what the people of the Archdiocese of New York think about me, and that's a source of consolation, because I can feel their love and support."
Rachel Donadio and Daniel J. Wakin contributed reporting.
© 2013, The New York Times News Service