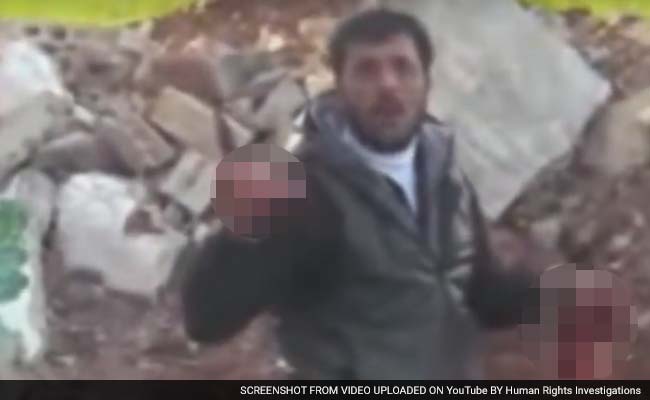 Beirut:
A Syrian terrorist who appeared in a gruesome video cutting out the heart of a regime soldier and eating it has been shot dead by rival rebels, a monitoring group said.
Known by his nom de guerre Abu Sakkar, the rebel reportedly joined the Al-Qaeda-affiliated Al-Nusra Front about a year ago, the Syrian Observatory for Human Rights said.
Rival rebels "assassinated Khaled al-Hamad, who was known as Abu Sakkar and who was a military commander in Al-Nusra, by gunning him down" in the north western province of Idlib, the Observatory said late on Tuesday.
In May 2013, Abu Sakkar appeared in a video showing him eating the heart of a dead regime soldier, sparking an international outcry and condemnation from the mainstream Syrian opposition.
At the time, he was fighting in a rebel brigade in central Homs province.
"He was likely killed in a settling of accounts" between Al-Nusra, which dominates much of Idlib province, and other Islamist rebels in the area, Observatory chief Rami Abdel Rahman said.
The Syrian conflict began as a peaceful uprising against President Bashar al-Assad in March 2011 but swiftly escalated into an armed rebellion after his regime unleashed a brutal crackdown.
Many Syrians became radicalised, and human rights groups have accused all sides in the fighting of committing atrocities.