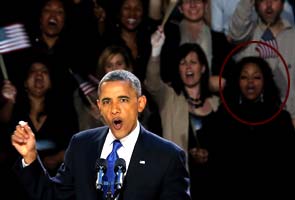 Washington:
Barack Obama should have been the star of his victory address on Wednesday, but a mystery "Hair flag lady" standing behind the US president stole the limelight.
As the president gave his speech TV channels captured the Obama supporter proudly showcasing her patriotism by sporting a flag attached to her head, achieving quick Internet fame as the Twitter hashtag #Hairflag went viral.
Every flip of her head and movement of her flag was captured as cameras rolled on the president. As the lady moved her head side to side during the speech, viewers clearly were distracted from Obama's address by her actions.
Hair flag lady is the real star of this speech.
- Andrew Kaczynski (@BuzzFeedAndrew) November 7, 2012
I hope that lady is getting texts from her mother: "TAKE THAT FLAG OUT OF YOUR HAIR. EVERYONE CAN SEE YOU." #flaghead
- Drew Mackie (@kidicarus222) November 7, 2012
<a href="https://twitter.com/search?q=%23flaglady&src=typd" rel="nofollow" target="_blank">See more tweets</a>