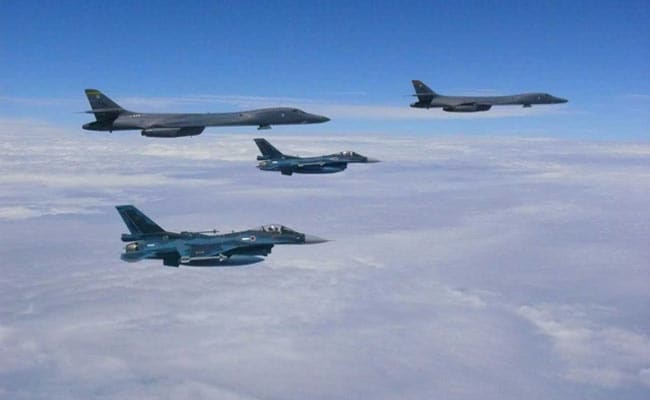 Hagatna, Guam:
Guam Governor Eddie Calvo downplayed North Korea's threat to attack his Pacific island state but said the US territory was "prepared for any eventuality" in a televised speech Wednesday as tensions escalate in the region.
US President Donald Trump threatened North Korea with "fire and fury" over its nuclear ambitions on Tuesday. Pyongyang raised the stakes just hours later, saying it was considering missile strikes near US strategic military installations on Guam.
In a televised address, Mr Calvo said Guam was working with Washington "to ensure our safety".
"I want to reassure the people of Guam that currently there is no threat to our island or the (neighbouring Northern) Marianas," he said.
"I spoke to Joint Region Marianas Commander Rear Admiral Shoshana Chatfield who confirmed this with me."
Guam, home to about 6,000 US troops, is strategically located midway between the Korean Peninsula and the South China Sea and houses two US military installations- the Andersen Air Force Base and the Naval Base Guam.
It was described by President Barack Obama's defense secretary Ashton Carter as "an important strategic hub for the US military in the Western Pacific".
Mr Calvo said there were "several levels of defense" strategically placed to protect Guam and he had been assured by the White House that a strike on the territory would be considered an attack on the United States.
"They have said that America will be defended. I also want to remind national media that Guam is American soil and we have 200,000 Americans in Guam and the Marianas. We are not just a military installation.
"With that said, I want to ensure that we are prepared for any eventuality."
On the streets of Guam capital Hagatna, there was a sense of calm.
"It's not like there's anything we can do anyway. This is a small island. There's nowhere to run to," resident James Cruz said AFP.
Ms Madeleine Bordallo, Guam's delegate to Congress, said North Korea's nuclear capabilities were "deeply troubling," but she was confident the island was safe and protected.
Guam's local population numbers 162,000 and its economy depends primarily on tourism and the US military.