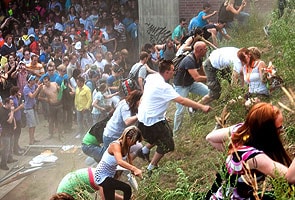 Berlin:
All 20 people, who lost their lives in tragic circumstances at the Love Parade techno music festival in the German city of Duisburg last Saturday, were crushed to death in an overcrowded tunnel, autopsies have shown.
It has been speculated that some of the victims may have died of injuries caused by falling from a wall as hundreds of people frantically tried to climb to safety when panic broke out in the tunnel, which was the only access route to the festival venue.
But autopsies showed that all of them died as a result of crushed rib cage, Prime Minister of the state of North Rhine Westphalia Hannelore Kraft told journalists after a meeting of her cabinet in Dusseldorf on Tuesday.
"None of them died as a result of a fall," she said. Kraft, who took over as the state's first woman premier two weeks ago after the state elections on May 9, said German President Christian Wulff and Chancellor Angela Merkel will attend a memorial service for the tunnel disaster victims at a church on Duisburg on Saturday.
It will be organised jointly by Germany's catholic and protestant churches.
As a consequence of the disaster, the NRW cabinet decided that such large events in the future will be organized by the city authorities in cooperation with the state interior ministry.
Kraft said she will press for nation-wide regulations for organising such events in the future.
She said there have been conflicting statements on the causes of the disaster and they can be cleared only when those responsible take the political responsibility for that.
"Responsibility for the tragedy should be taken at the political level," Kraft said.
Her comments came as pressure was mounting on Duisburg's Mayor Adolf Sauerland to step down amid reports that he had ignored repeated warnings that the city was unsuitable for organising such a large event and security arrangements for the Love Parade were lax.
Sauerland's office on Tuesday said he will not be attending Saturday's memorial service.