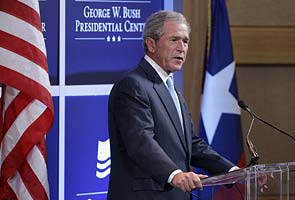 London:
George W. Bush has been voted the most unpopular living former president of the US.
Mr Bush - born on July 6, 1946 - was the 43rd president of the US from 2001 to 2009.
According to a CNN poll, just 43 per cent of people questioned said they have a good opinion of Bush, while 54 per cent said the opposite.
However, two-thirds of Americans interviewed said they have a positive view of Mr Bush's predecessor, former president Bill Clinton, the Daily Mail reported citing The Huffington Post.
The daily said may be it was due to the war in Iraq, or the global financial crisis or even his "dubious grasp of the English language" that made Mr Bush so unpopular.
Of the other living former presidents, Jimmy Carter is well-liked by 54 per cent of those questioned and Bush's father, George H.W. Bush got 59 per cent.