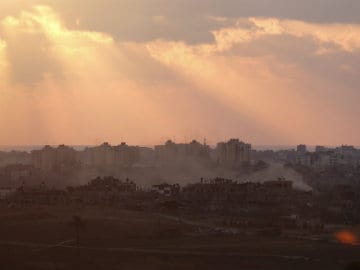 Jerusalem:
Israeli Finance Minister Yair Lapid has called on the international community to pull together a massive aid package for Gaza conditioned on the Palestinian Authority returning to power in place of the Islamic militant group Hamas.
Lapid said that the Western-leaning Palestinian President Mahmoud Abbas is the legitimate authority in Gaza, which was been blockaded since Hamas seized control there in 2007. If Hamas were removed, the blockade would end, achieving Hamas' own stated purpose in its firing of rockets on Israel, Lapid said.
In a phone interview with the Associated Press yesterday, the finance minister argued that Israeli-Palestinian negotiations currently being mediated by Egypt should lead to a reopening of the Rafah border crossing between Egypt and Gaza, with the Gaza side controlled by the Palestinian Authority instead of Hamas. As a next step, he said, Abbas should be in charge of any aid the world community donates to the rehabilitation of Gaza, he said.
"I think this is possible," Lapid said. "We have to remember that the PA was in charge of Gaza and is still the legal ruler of Gaza, and should be there instead of Hamas, which is a terror organisation." The involvement of the international community and the Arab world was needed to put pressure on the militants, so "we think we should involve the Arab world into the process, and we should involve the entire international community."
"If they want to rebuild the place they live in, then they will have to accept," Lapid said of Hamas.
Lapid's centrist Yesh Atid party is one of the largest in parliament and he is widely considered a power broker and future prime ministerial prospect.
The latest Israel-Hamas war has its roots in the kidnap-murder of three Jewish teens two months ago in the West Bank. Israel then arrested dozens of Hamas supporters in the West Bank. The group resumed rocket fire against Israel's cities and Israel responded with airstrikes. Almost 2,000 Palestinians died, and Palestinian officials say most were civilians, along with 67 Israelis. The devastation in Gaza has been immense, while Israel has been largely protected by its effective Iron Dome missile defence system.
A cease-fire is now underway, and Norway plans to host a donor conference at the beginning of September. Palestinian officials have said the costs of reconstruction would be at least USD 6 billion. The finance minister said Israel did not plan to participate with donations of its own.
Referencing the international criticism of Israel for the deaths of civilians, Lapid said that "legally we think that we are covered."
"No other nation would have gone out of his way the way we did, trying to prevent innocent casualties. And if Hamas wasn't using those children as human shields, none of this would have happened. But still it's heartbreaking, and the death of anyone who is innocent is a tragedy."