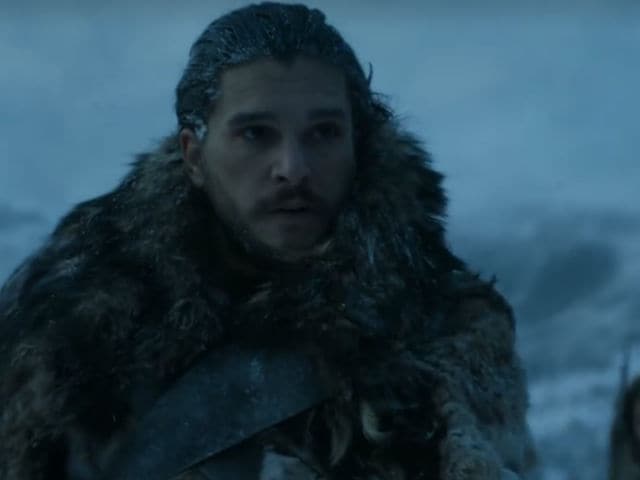 Highlights
From the new trailer it seems that Bran Stark is finally home
Jon Snow has bigger battles to fight than just the Great War
Daenerys Targaryen's dragons are menacing, like truly menacing
New Delhi:
In a few weeks, season 7 of popular television series
Game Of Thrones
will premiere on television. On Wednesday, the showrunners released
Game Of Thrones 7
's new trailer, which will make your wait till July 7 even more difficult. There are ample of subtle hints about the plot of
Game Of Thrones 7
, which will be wrapped in mere seven episodes. There is
definitely a Stark-kids reunion on the cards
- Bran, played by Isaac Hempstead Wright, we think has finally reached the Wall and the door did open. His sister Sansa Stark (Sophie Turner) and cousin Jon Snow (now that we know that Jon Snow is actually Lyanna Stark and Rhaegar Targaryen's son) are already there. Arya Stark (Maisie Williams), who seems to be on her own mission, was spotted at a beach riding a horse.
Jon Snow, who was crowned the King Of The North on popular demand, is
battling many enemies and seems to be in danger
. Sansa, who according to several reports dies in the seventh season, seems to be in two minds about something. Is Lord Petyr Baelish aka Littlefinger (who lurks in a corner) still messing with her mind?
Daenerys Targaryen (Emilia Clarke) has started her the Great War and it appears from the new trailer that her army has invaded the Casterly Rock, which Jamie Lannister (Nikolaj Coster-Waldau) reclaimed as the Lannister seat in the previous season. Daenerys Targaryen's dragons are menacing and are going to be tough to fight. Are you listening, Cersei Lannister?
In the new trailer, Jon Snow can be heard saying: "For centuries, our families fought together against their common enemy, despite their differences together. We need to do the same if we're going to survive, because the enemy is real. It's always been real." We think Jon Snow may be talking about the White Walkers, who pose a threat to the entire human race. Is he telling this to Daenerys? We learnt in the last season through Bran's vision that Daenerys is Jon Snow's aunt. PS: Daenerys and Cersei (Lena Headey) are not aware of White Walkers' recent rise and dominance in the north, which has so far been contained on the other side of the wall by Jon Snow.
Watch the new trailer of
Game Of Thrones 7
Game Of Thrones 7
premieres from July 7.