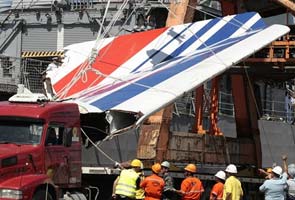 Paris:
French investigators will use a Brazilian DNA database to help identify the remains of victims of an Air France crash two years ago, the head of a group representing the victims' Brazilian families said Wednesday.
All 228 people aboard Air France Flight 447 from Rio de Janeiro to Paris died when the Airbus A330 dived into the Atlantic Ocean in 2009. Investigators are still trying to determine what caused the crash, but the probe leapt forward in April, when underwater robots retrieved the plane's black box flight recorders and several bodies.
A ship carrying the remains and aircraft parts is scheduled to arrive in the port of Bayonne, on France's Atlantic coast, on Thursday. The bodies still must be identified, through DNA testing.
Nelson Marinho, who lost a son on the flight and is president of an association of Brazilian victims' family members, said the French have agreed to use a DNA database compiled by Brazil's federal police to help identify the bodies. Brazil has already shared the database with the French, Marinho said, adding that the identification process should now take between two and three months.
"After that, the bodies will be repatriated to their families," he said, speaking after a meeting in Paris with France's BEA investigators and representatives from Brazilian, French, Italian and German associations of victims' families.
Marinho said a few of the families objected, saying they didn't want their loved ones' bodies to be raised from the sea and identified. But he added that "the majority want to get on with their lives and you only get on with your life after a funeral."
Based on initial information from the flight recorders, investigators say the pilots, confronted with faulty instrument readings and alarms going off in the cockpit, struggled to tame the aircraft as it went into an aerodynamic stall, rolled, and finally plunged 38,000 feet in just 3 1/2 minutes.
A brief, highly technical report released by the BEA last month contains only selective remarks from the cockpit recorder, offers no analysis and assigns no blame. A fuller report is expected in July.
Marinho said some family representatives tried to get more details on the black boxes but "it wasn't permitted.
Tuesday's "meeting was specifically dedicated to the identification of the bodies," he said.
The plane's external speed sensors, called Pitot tubes, have long been considered a likely culprit in the disaster, with experts suggesting they may have been iced over. The BEA investigators also found that two sets of instruments on the plane gave different speed readings.
Since the accident, Air France has replaced the speed monitors on all its Airbus A330 and A340 aircraft.
"We're seeking the truth. We lost relatives and we need to take advantage of this to make aviation safer so other families don't have to suffer what we're suffering," said Marinh