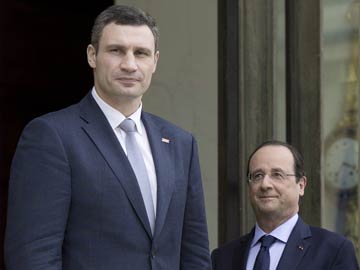 Paris:
France said on Friday that there could be no referendum on the future of Crimea unless Ukraine decided to organise one.
"The territorial integrity and sovereignty of Ukraine are non-negotiable," President Francois Hollande said after a meeting with Ukraine's Vitali Klitschko, the former boxer who was a leading figure in the protest movement that ousted a pro-Moscow government in Ukraine.
Russia has said it would respect a decision by lawmakers in Ukraine's flashpoint Crimea region to renounce ties with Kiev and stage a March 16 referendum on switching to Kremlin rule.
Hollande said the West's response to the crisis would be "modulated according to the situation."
"Our aim is to also always leave open the door for negotiations so that Russia can enter into talks if it decides to do so," he said.
Hollande said the "international community, Europe and France must work to preserve the territorial integrity of Ukraine."