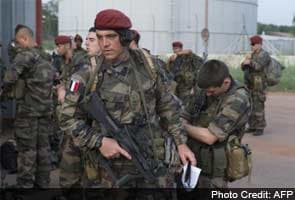 Paris:
France has expressed regret over the killing of two Indians by its troops in the Central African Republic, where a rebel leader seized power during the weekend.
French President Francois Hollande has expressed regret over the incident, in which six other Indians were injured, in a letter to Prime Minister Manmohan Singh.
The prime minister is here for the 5th BRICS Summit.
The incident took place at the airport in capital Bangui. The French, who have some 250 soldiers stationed in Central African Republic Airport, were guarding the airport, Indian officials here said.
"While conveying his condolences, President Hollande assured the prime minister of his firm determination to investigate the tragic event and assured that the injured were under the care of French medical teams," an official statement said.
"The prime minister expressed his deep distress at the loss of innocent lives.
"He has directed that all efforts be made to ensure the safety of approximately 100 Indian nationals in the Central African Republic, mainly in and around Bangui," the statement added.
The Indian ambassador to the Democratic Republic of Congo, concurrently accredited to the Central African Republic, "is making necessary arrangements for the return of the mortal remains of the Indian nationals in accordance with the desires of their next of kin".
Officials said the French have termed the incident a result of mistaken identity.
Its troops were trying to defend the airport and French nationals in the city. There are some 1,200 French people in the country, most of them in the capital.
The Central African Republic is a landlocked country with Chad in the north, Sudan in northeast, South Sudan in the east, Democratic Republic of the Congo and Republic of the Congo in south, and Cameroon in the west.
The country of some 4.5 million slid into anarchy. Its President Francois Bozize fled to Cameroon after the rebels seized the capital.