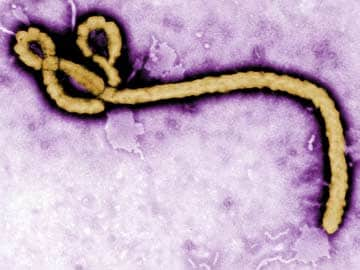 London:
The first human volunteer in a fast-tracked British safety trial of an experimental vaccine to fight Ebola is to be injected with the shot next week, organisers of the trial said on Friday.
The candidate Ebola vaccine is being co-developed by the United States National Institutes of Health and the British drugmaker GlaxoSmithKline.
The British trial, which will ultimately involve 60 people, is part of a series of safety tests of potential vaccines aimed at preventing infection with the virus that has killed more than 2,400 people in West Africa this year in the world's largest Ebola outbreak on record.
The trial will be led by Professor Adrian Hill of the Jenner Institute at Oxford University, which said on Friday the first shot is scheduled to be given to a human volunteer next week.
It gave no gender, age or other details of the volunteer, and said the planned injection day of Wednesday, Sept. 17, may also be subject to change.
The vaccine is designed to specifically target the Zaire species of Ebola - the one circulating in the current West Africa epidemic. This strain can have a mortality rate of up to 90 percent, according to the World Health Organisation.
The trial is testing the vaccine on healthy volunteers with the goal of determining whether it is safe and whether it provokes a protective immune response.
Hill said last month he was looking to recruit 60 healthy individuals from in and around the university town of Oxford, aged 18 to 50, to take part.
He said there were no concerns that any of the subjects will catch Ebola, since the vaccine contains no infectious Ebola virus material. The only Ebola component is a gene for a protein that sits on the virus's surface - and that protein does not cause illness.
The aim is to complete the tests by the end of 2014, after which vaccines could be deployed on an emergency basis.
GSK has said it plans to begin making up to about 10,000 additional doses of the vaccine at the same time as the initial clinical trials, so that if they are successful, the vaccine could be made available immediately for an emergency immunisation programme.
The WHO said on Friday the number of Ebola cases in West Africa is growing faster than authorities can manage them and urged health workers from around the world to go to the region to help.
© Thomson Reuters 2014