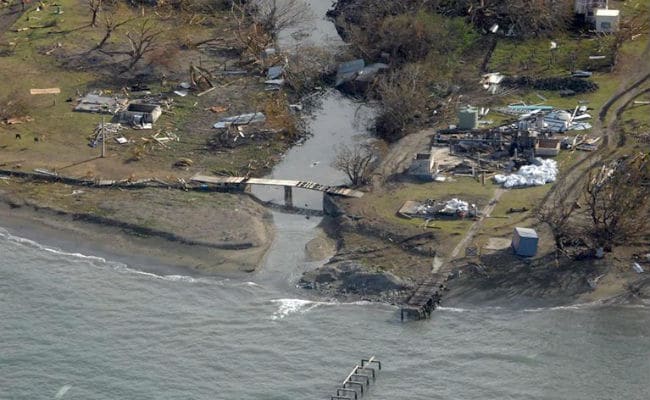 Suva, Fiji:
Cyclone-devastated Fiji said it was likely to need more foreign aid Thursday as the body count from the most powerful storm in its history climbed to 44.
France became the latest country to join the relief effort following last weekend's deadly super-cyclone, flying in three tonnes of supplies and 40 engineers to help rebuild crippled infrastructure.
But with Care Australia confirming the death toll had reached 44 -- up from 42 previously -- and that about 35,000 people were homeless, officials said Fiji "requires all the support that can be given".
Severe tropical cyclone Winston lashed the Pacific nation overnight Saturday, packing wind gusts of 325 kilometres (202 miles) per hour and leaving a trail of destruction.
Australia and New Zealand have so far led the international response, sending planes laden with supplies, helicopters and medevac teams.
New Zealand is also dispatching two naval ships this weekend, while France sent two military transports from New Caledonia.
In addition, there has been financial support from Canberra, Wellington, India, China, the United States, Japan, Nauru and the Asian Development Bank.
"We've had a lot of international assistance already and we're grateful to our friends in the international community," government spokesman Ewan Perrin told Radio New Zealand.
"But as we go through our more detailed assessments of the damage and area needs we'll be able to go back to the international community and see if we can source some more things."
'Be patient'
Aerial photographs show some villages in outlying islands were flattened in the tempest and Perrin said getting aid through to them was a challenge.
"It's a widespread disaster. The government's working as hard as it can around the clock to get the materials out to the people in need," he said.
"Obviously with 300 islands and 900,000 people, we can't service everybody at once. So I'd ask for people to be patient, the government is on its way."
He said there had been minimal contact with some isolated communities "so we're not sure how much further the death toll will rise".
Save the Children estimated 120,000 youngsters were in communities that bore the brunt of the tempest.
"Alongside lifesaving aid like food, water and healthcare, we need to ensure that children do not continue to be traumatised and distressed by what they have experienced," the agency's local chief Iris Low-McKenzie said.
The UN humanitarian agency OCHA said crops were totally destroyed in some areas, a major blow for the country's sugar industry.
Some cruise ships have already announced they are avoiding Fiji in the immediate future, in a concerning development for an economy heavily reliant on the tourism sector.
However, experts pointed out that Fiji's tourism sector had proved remarkably resilient in the past, with visitor numbers barely dipping during a series of military coups.
There were dire predictions in 2012, when Suva actually advised tourists to stop coming as flooding caused chaos and killed 11 people on the main island Viti Levu.
Yet international visitor numbers bounced back and hit a record 750,000 last year, mostly from Australia and New Zealand.
"We need to put these sort of events in context. Natural disasters come and go," ANZ chief economist Cameron Bagrie told AFP.
"They're tough to deal with but they're seldom what you'd call a knockout punch for an economy."