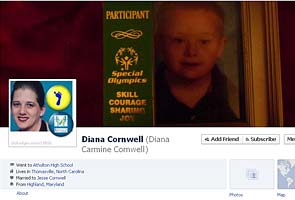 London:
An American woman was banned from Facebook after she posted photos of her son affected with Down's syndrome. The social network, which termed the pictures "inappropriate", has now apologised.
Down's syndrome is a condition caused by the presence of all or part of an extra 21st chromosome. It is associated with a delay in cognitive ability and physical growth, and a particular set of facial characteristics.
Diana Cornwell - from North Carolina - posted the photos on Facebook of her seven-year-old son competing at a local Special Olympics event. When she next logged on, she received messages from the website monitoring team that said the pictures violated its user agreement.
Cornwell's account was disabled for three days until she took down the photos.
"Every photo was of my son at the Special Olympics Event. There was nothing wrong with those pictures," she said.
Facebook later apologised for the incident and said "human error" was to blame.
"The photo was taken down in error. We apologize for any inconvenience this may have caused and we hope she'll repost the photo and continue to share her son's experience at the Special Olympics on Facebook," the website said in a statement.