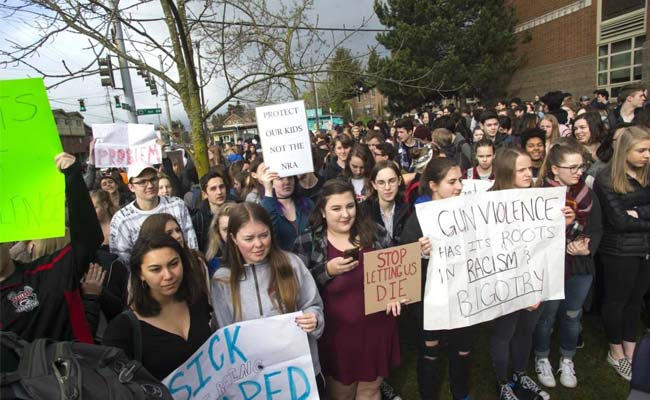 Washington, United States:
From Washington to Los Angeles, students walked out of US classrooms Wednesday in the largest grassroots protest against gun violence seen in years, demanding action one month to the day after a deadly shooting rampage at a Florida high school.
Hundreds of teenagers from Washington area schools gathered outside the White House, holding up signs reading "Books Not Bullets" and "Protect People Not Guns" before marching on the US Capitol.
"We want to show Congress and politicians we are not standing by, we are not silent anymore," said 17-year-old Brenna Levitan, who was at the protest with her mother.
Parkland is going to be the last school shooting
Students in dozens of other cities in all 50 states staged similar demonstrations and observed a moment of silence to honor the 14 students and three adult staff killed a month ago at Marjory Stoneman Douglas High School in Parkland, Florida.
In Washington, several hours after the protests broke up, US lawmakers took their first significant step to address school gun violence since the Parkland shooting.
The House of Representatives voted 407-10 to fund violence prevention measures at schools including boosting security, mental health screening and creating anonymous reporting systems so students can report threats.
But Congress has yet to tackle the more controversial aspects of gun control demanded in the wake of the Parkland shooting.
These include expanded background checks for gun sales, a ban on assault weapons and raising the minimum age for some firearms purchases.
We want change
Dressed in the school's maroon colors, students at Stoneman Douglas visited memorials to their slain classmates and hugged and cried.
At a high school in Cherry Hill, New Jersey, students marched to the football field and assembled in a heart formation to pay tribute to the victims.
In Los Angeles and other cities, teenagers spelled out the protest slogan "#ENOUGH" by lying down on the ground on sports fields.
In Washington, students were joined by Democratic members of Congress at the Capitol.
Speakers denounced the National Rifle Association (NRA), the powerful US gun lobby, and demanded that Congress enact tougher laws on gun ownership.
"You, the young people of this country, are leading the nation," Senator Bernie Sanders told the crowd.
"People are sick and tired of gun violence and the time is now for all of us, together, to stand up to the NRA."
In New York, students many of whom wore orange, the color of gun control walked out from more than 50 schools.
"We want change," and "Am I next?" they chanted
Press secretary for New York Mayor Bill de Blasio, Eric Phillips, said "just over 100,000" students took part from the city's schools.
The "National School Walkout" was intended to last for 17 minutes, one for each victim.
But tens of thousands of students around the country decided to skip school entirely and protest instead.
No guns in schools
At the White House, 17-year-old Farah Parmah, who goes to Thomas Wootton High School in Rockville, Maryland, said President Donald Trump's controversial proposal to arm and train teachers "is just a bad, bad idea."
"Gun violence has taken way too many lives this year," said Parmah, who is 17.
"There should be no guns in schools."
White House spokesman Raj Shah said Trump "shares the students' concerns about school safety."
Meanwhile, Hillary Clinton praised the students Wednesday evening, calling them an "inspiration to millions of Americans who know commonsense gun reform is long overdue."
The nationwide protest was held one month to the day after Nikolas Cruz, a troubled 19-year-old former student at Stoneman Douglas, unleashed a hail of gunfire on his one-time classmates.
Cruz, dressed in a red prison jumpsuit, appeared in court in Fort Lauderdale on Wednesday and a judge entered a not guilty plea on his behalf.
His lawyers had said he would plead guilty in exchange for guarantees that he would not face execution, but prosecutors say they will seek the death penalty.
Next protest on March 24
The United States sees more than 30,000 gun-related deaths annually and Stoneman Douglas students have spearheaded a national gun control campaign, helping to force through a new law on age limits for gun purchasers in Florida.
The US public supports tougher gun laws, according to polls, but there is little backing for meaningful reforms in the Republican-controlled Congress.
Trump momentarily signaled support for curbing access to guns, notably by raising the age for purchases from 18 to 21, but now stands accused of bowing to the NRA.
He backed away from supporting age limits on gun purchases ending the proposal to a commission on school safety as well as from expanded background checks.
Such checks are currently only performed on people buying firearms from licensed gun dealers. Sales online and at gun shows are exempt.
According to the #ENOUGH campaign, students from more than 3,000 schools nationwide took part in Wednesday's demonstrations.
Another nationwide student-inspired protest, the March For Our Lives, is to be held on March 24.
(Except for the headline, this story has not been edited by NDTV staff and is published from a syndicated feed.)