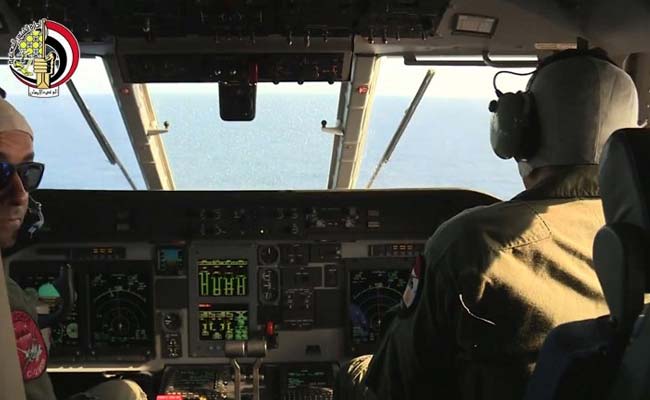 CAIRO:
Egyptian naval ships scouring the Mediterranean Sea found passenger belongings and parts of the fuselage of an EgyptAir plane that crashed in the area on Thursday, killing all 66 people on board, the country's military spokesman said on Friday.
The statement from Egypt's military, which said the partial debris was discovered about 180 miles off the coast of Egyptian city of Alexandria, comes after authorities here were forced to retract earlier claims that the wreckage had been found on Thursday night.
The expanded effort for signs of the Cairo-bound flight had resumed in an area south of the Greek island of Crete, deepening the mystery surrounding the plane's disappearance from radar screens several hours after it departed from Paris' Charles de Gaulle airport late Wednesday.
French Foreign Minister Jean-Marc Ayrault said on Friday on France-2 television that there is "absolutely no indication" of the cause of the crash, the Associated Press reported, amid speculation that a terrorist attack downed the airliner. No group has claimed responsibility for the fallen plane.
Three French civil aviation experts arrived in Cairo on Friday to assist with the investigation, Egypt's flagship state-owned newspaper, Al-Ahram, reported.
"Egyptian plane flying from Paris falls," Ahram's front page headline read on Friday.
Late on Thursday, EgyptAir vice-chairman Ahmed Adel corrected an earlier statement he gave to CNN confirming that search-and-rescue teams had found the wreckage of the aircraft, an Airbus A320. The Egyptian military late Thursday released footage of what it said were navy ships and aircraft scouring the Mediterranean for the wreckage.
"We stand corrected on finding the wreckage because what we identified is not a part of our plane," Adel said. "So the search and rescue is still going on."
The Airbus A320, en route from Paris to Cairo, swerved abruptly before plunging thousands of feet and losing contact with air traffic controllers over the Mediterranean between Greece and Egypt, triggering concerns of terrorism. The airliner had 66 people on board, including passengers from a dozen nations.
The disappearance of Flight 804 was Egypt's third major air incident since October, further eroding confidence in the safety of the country's air travel and delivering another blow to government efforts to revive a struggling economy and tourism sector.
The Egyptian stock exchange plunged on Thursday, recording more than $300 million in losses, local media and financial analysts reported. Egyptian newspaper al-Wafd quoted an adviser to the country's tourism minister as saying the government expected an industry downturn following the crash - "due to fears of traveling with EgyptAir," the newspaper wrote.
EgyptAir said earlier in the day that bits of wreckage had been found near the Greek island of Karpathos, about 250 miles from the Egyptian coast. But a senior Greek air-safety official said on state television that the debris did not belong to the aircraft, and the airline later retracted its statement.
Investigators emphasized they were leaving open all possibilities, but a top Egyptian aviation official suggested that terrorism seemed more likely than a technical failure.
"The possibility of a terror attack is higher than a malfunction, but again, I don't want to hypothesize," Egypt's civil aviation minister, Sherif Fathy, told reporters without giving further details.
U.S. officials cautioned that it was too early to determine what brought down the plane. Rep. Adam B. Schiff of California, the ranking Democrat on the House Intelligence Committee, said there was not yet enough evidence to "draw any conclusions."
"There certainly are reports that it broke apart in midair that I think are credible," Schiff said, "but the cause of that is still not known. We haven't seen claims of responsibility yet, and we don't have the specific intelligence to draw any conclusions yet."
The Airbus A320 left Paris at 11:09 p.m. local time Wednesday. It flew as scheduled across Europe, passing over northern Italy and down the Adriatic coast.
As the plane left Greek airspace, the pilot "was in good spirits and thanked the controller in Greek," according to Greece's civil aviation agency.
But shortly after entering Egyptian airspace, the plane made "sudden swerves" and dropped from 37,000 feet to 15,000 feet, said Greece's defense minister, Panos Kammenos.
The first turn was a sharp, 90-degree veer to the east after the plane passed over the Greek island of Karpathos, Kammenos told reporters in Athens. Then the plane made a full circular loop - a "360-degree turn," Kammenos said.
"We cannot rule anything out," Egyptian Prime Minister Sherif Ismail said at Cairo's airport.
Earlier, there was conflicting information about whether officials had received a distress signal from the aircraft. The airline said it received one from Flight 804, but the Egyptian armed forces later said they were unaware of such a signal.
Of the 66 people aboard, 56 were passengers, including two infants and one child. Seven were crew members, and three were security personnel. French authorities told reporters at a news conference that it is usual practice for EgyptAir to have three security officers on board.
No Americans were on the flight, according to the airline. Among those aboard, it said, were 30 Egyptians, 15 French nationals, two Iraqis, and one passenger each from Algeria, Belgium, Britain, Canada, Chad, Kuwait, Portugal, Saudi Arabia and Sudan.
In Washington, President Obama directed U.S. officials "to reach out to their international counterparts to offer support and assistance," White House spokesman Eric Schultz said.
A Pentagon spokesman, Capt. Jeff Davis, said a U.S. P-3 Orion surveillance aircraft will join the search teams. Britain planned to send a plane and a ship.
Officials in Paris, where the flight began, opened investigations into why the plane vanished about 45 minutes from its scheduled landing in Cairo. French President François Hollande said it had "crashed," but he gave no further details on what could have brought it down.
"No hypothesis is favored or ruled out at this stage," a statement from the French prosecutor's office said about its investigation.
Secretary of State John F. Kerry said he would not speculate on whether terrorism caused the crash.
"I just don't have the information on which to base this, and I don't think the experts have the information yet on which to base this," he said, speaking from a NATO meeting of foreign ministers in Brussels. "And nothing does more harm to people or countries than to start speculating ahead of time, so I'm - I don't want to do that."
But the sudden cut from ground contact raised inevitable parallels with more recent incidents when attacks, bombs or pilot intervention, not technical malfunctions, brought down aircraft.
Egypt faces a range of militant threats, including a group affiliated with the Islamic State that is active in the Sinai Peninsula. It claimed responsibility for bringing down a Russian charter flight in October with a possible bomb smuggled aboard, killing all 224 people on a flight from the Red Sea resort city of Sharm-el-Sheikh.
In March, an EgyptAir flight from Alexandria was hijacked and diverted to Cyprus. The suspect, 59-year-old Seif Eldin Mustafa, surrendered, and all hostages were released.
In November - just a month after the Russian plane attack in Sinai - the same Islamic State-linked faction posted a video purporting to show one of its members striking an Egyptian navy vessel with a shoulder-fired antiaircraft missile.
Defense experts believed the weapon was probably a Russian-built SA-18 Igla, which can hit aircraft flying at a maximum of 11,000 feet.
On Thursday, in an effort to contain the damage, EgyptAir officials stressed that their pilots were highly trained and their planes were in good condition.
The pilot of Flight 804 had more than 6,000 hours of flight experience, including more than 2,000 hours flying the same model as the vanished aircraft, said EgyptAir.
The co-pilot had nearly 3,000 flying hours.
The plane had been in service for more than 17 of the previous 24 hours before the crash, traveling from Asmara, Eritrea, to Cairo, then a round trip to Tunis, before heading to Paris.
Steven B. Wallace, former director of the Office of Accident Investigation and Prevention at the Federal Aviation Administration, called it "heavy utilization for that kind of aircraft."
"But I don't see that as a safety issue as long as the normal flight checks were made," he added.
Manufactured in 2003, the plane was powered by International Aero engines and had about 48,000 flight hours, Airbus said.
Relatives of passengers were kept in a lounge with on-site doctors and translators at the Cairo airport. They left after a few hours and were told to await updates by phone. One man with four relatives on the plane said he knew "nothing."
Amr Sami, a regional EgyptAir spokesman at Charles de Gaulle Airport in Paris, told The Washington Post that EgyptAir flights from the French capital would continue as scheduled.
Meanwhile, family members of those aboard began streaming into a makeshift crisis center at a hotel near the airport.
As French police ushered them in, they were tearful and bewildered, some pushing strollers with young children. They did not speak to reporters.
© 2016 The Washington Post
(This story has not been edited by NDTV staff and is auto-generated from a syndicated feed.)