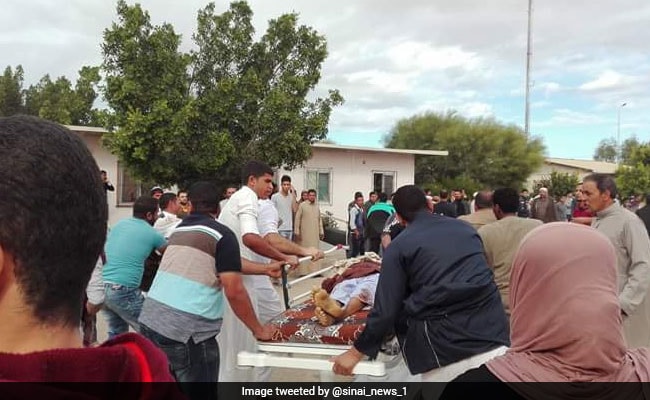 Highlights
Terrorists set off a bomb and opened fire on people praying in a mosque
This was the deadliest attack in the Northern Sinai region of Egypt
No group has claimed responsibility for the attack so far
Cairo:
At least 155 people were killed and dozens more wounded when terrorists set off a bomb and opened fire on people attending prayers at a mosque in Egypt's restive northern Sinai on Friday, state media said.
No group claimed responsibility for the assault but it was the deadliest yet in the region where for three years Egyptian security forces have battled an ISIS insurgency that has killed hundreds of police and soldiers.
State media showed images of bloodied victims and bodies covered in blankets inside the Al Rawdah mosque in Bir al-Abed, west of the city of El Arish. At least 155 people died and another 120 people were wounded, state news agency MENA reported.
"They were shooting at people as they left the mosque," a local resident whose relatives were at the scene told Reuters. "They were shooting at the ambulances too."
Arabiya news channel and some local sources said some of the worshippers were sufis who hardliners such as Islamic State regard as apostates because they revere saints and shrines, which for Islamists is tantamount to idolatry.
President Abdel Fattah al-Sisi, a former armed forces commander who presents himself as a bulwark against terrorists in the region, convened an emergency security meeting soon after the attack, state television said.
Terrorists have mostly targeted security forces in their attacks since bloodshed in the Sinai worsened after 2013 when Sisi, then an armed forces commander, led the overthrow of President Mohamed Mursi of the Muslim Brotherhood.
But jihadists have also targeted local Sinai tribes that are working with the armed forces, branding them traitors for cooperating with the army and police.
In July this year, at least 23 soldiers were killed when suicide car bombs hit two military checkpoints in the Sinai, an attack claimed by Islamic State.
Terrorists have tried to expand beyond the largely barren, desert Sinai Peninsula into Egypt's heavily populated mainland, hitting Coptic Christian churches and pilgrims.
In May, gunmen attacked a Coptic group travelling to a monastery in southern Egypt, killing 29.
© Thomson Reuters 2017