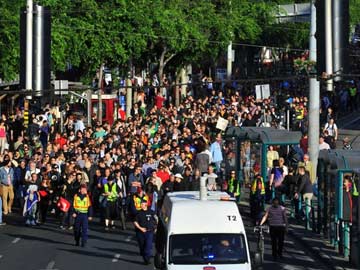 Budapest:
The sudden termination of a Hungarian editor's contract sparked protests in Budapest on Tuesday after allegations he was fired for publishing a story which embarrassed Prime Minister Viktor Orban's government.
The owner of the popular Origo.hu website, Origo Zrt. - a subsidiary of German firm Deutsche Telekom AG - said that the site's editor Gergo Saling was stepping down "by mutual consent", but were forced Tuesday to deny allegations Saling had been booted out for political reasons.
The termination was "not my initiative," Saling told AFP without giving further details.
An Origo journalist told AFP anonymously however that Saling was "forced out" for political reasons after the site published a story about an extravagant expenses claim made by Janos Lazar, Orban's chief-of-staff.
"Journalists here have come under pressure by the owners to soften criticism of the government, particularly after the Lazar story was published," the source said.
Origo journalists issued a joint statement Tuesday saying they did not agree with Saling's removal and that "in the current situation (we) cannot ensure that our work continues as before".
Other websites including Origo's competitors Index.hu and 444.hu published statements of solidarity with Saling on their homepages.
Around 1,000 people, including many journalists, marched Tuesday evening from the Origo offices to the Hungarian parliament in protest at the editor's removal.
Since coming to power in 2010, Orban's government, reelected in April, has often been accused of trying to curb press freedom, particularly since setting up a powerful new regulatory authority and centralising public media.