Indonesian Fisheries Minister Susi Pudjiastuti doesn't like jargon. If she gets memos with words like synchronization or empowerment -- what she calls "words with wings" -- she throws them out.
"I said to the president, 'Look, I can't learn now after 50 years how to catch up with all the words,' " Pudjiastuti said last month in an interview in Washington, D.C. "Instead of having to learn, I'd better forbid this in my department. I say if you are unhappy, sorry, but that's my thought. The president agrees; he's very happy."
A relative newcomer to politics, Pudjiastuti, 51, joined President Joko Widodo's cabinet two years ago, becoming both a popular public figure and a polarizing one within the administration. With the job of making good on Widodo's promise to revitalize the maritime industry of the world's largest archipelago, she's gained notoriety for blowing up boats found fishing illegally in Indonesian waters.
Her reputation for straight talk has also raised eyebrows and could complicate things for Widodo, known as Jokowi. Her portfolio matters to the economy: Fishing along with farming and forestry makes up 14 percent of the economy and employs millions of Indonesians. Since coming to power Jokowi, a former Jakarta governor who also came from outside the established parties, has sought to shake off vested interests in order to push his economic agenda through parliament.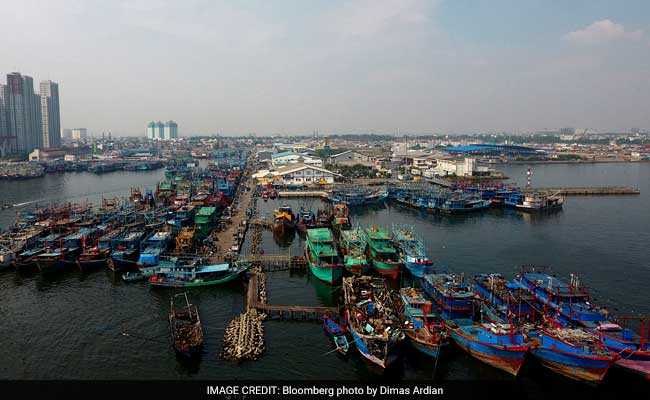 Fishing boats are docked Sept. 27, 2016, at the Muara Angke port in this aerial photograph.
Still, the major parties have long controlled key positions and policy-making, and in the predominantly Islamic nation Pudjiastuti, a heavy-smoking, tattooed divorcee who never finished high school (she calls herself the minister "with the lowest educational background"), stands out. There were rumors for weeks in the halls of parliament that Jokowi was under pressure to dump her from cabinet in a reshuffle he announced in late July.
"I mean what I say and I say what I mean. Diplomats are different. Diplomats never mean what they say and never say what they mean," Pudjiastuti said.
"I'm dealing with fish! I have fish language," the entrepreneur and millionaire said, punctuating her words by repeatedly slapping her thigh and laughing in a raspy voice.
Pudjiastuti said her crackdown had helped rejuvenate fish stocks and will help the economy as other drivers falter. Growth is under pressure and set to be around 4.9 percent to 5.3 percent this year. Since Pudjiastuti took the post Indonesia has destroyed around 240 boats, including some from China, which claims that waters surrounding the gas-rich Natuna Islands are part of its traditional fishing grounds.
Pudjiastuti said tensions with China are now manageable, after an unusually public spat in March over the collision between the Chinese Coast Guard and a Chinese fishing boat being towed by Indonesian authorities. "I don't think there is any problem with the relationship," she said. That marks a less confrontational tone than earlier in the year and jibes with the approach taken by other senior officials keen to preserve Chinese investment.
Her public popularity should offer her some protection in future cabinet reshuffles, said Aaron Connelly, a research fellow at the Lowy Institute for International Policy in Sydney. But her actions have risked creating tension within the administration.
"For example, she has clearly pushed a harder line on China and illegal fisheries than some of her cabinet colleagues have been comfortable with," he said. By holding a press conference on the March incident she "strayed" into the remit of the foreign minister, and her criticism of the navy's efforts to capture illegal fishing boats "has clearly led to hard feelings on the part of navy leaders."
"As a person, Susi is nice, fun and fair. She talks bluntly and she's eccentric," said Daniel Djohan, a lawmaker with the National Awakening Party and vice-chairman of the House commission responsible for maritime affairs. "But her policies often create trouble and difficulties, not only for MPs but also for fishermen."
Djohan, whose party is backed by Nahdlatul Ulama, the country's biggest Muslim organization with 40 million supporters, said the living standards of fishermen are "not improving but declining."
"The fishermen are having difficult times with the minister's policy," he said, citing restrictions on lobster and crab catches and on the types of nets they can use. The minister has also cracked down on practices including transshipment of catches at sea.
Firman Subagyo, a lawmaker with the Golkar Party, which is allied with Jokowi's government, said Pudjiastuti's background in business meant she wanted things to be "clear and clean, and fast." Still, in government she needed to "keep the balance between the interests of the nation and the people," he said.
While describing herself as an "alien" in cabinet, Pudjiastuti said she had the support of Jokowi, and boasted about speaking bluntly to him. "This is my language to my president and my colleagues. I don't care if they don't like it."
Asked if any minister had protested to Jokowi about her manner and policies, Johan Budi, a spokesman for the president, said, "To my knowledge, none."
In June, as she headed to a hotel in Jakarta to give a speech, Pudjiastuti was caught in one of Jakarta's frequent traffic snarls. "She was coming in her official car and she got stuck in a traffic jam," said John McBeth, a journalist and author who has lived in Southeast Asia for more than 30 years. "So she got out, jumped on the back of the motorcycle escort and came to the party. That's her."
"She was a high-school dropout; she'd driven trucks in Java buying fish; she'd lowered herself into caves in Sumatra looking for swallow nests. You know, she'd done all this stuff," McBeth said. "She's at home standing on the beach surrounded by fishermen as she is attending a cocktail party wearing a ball gown."
Raised on the south coast of West Java by a contractor father and a mother who was a landlord and coconut plantation worker, Pudjiastuti said her family struggled financially as her father -- who she called a kind of Santa Claus -- gave money to others. She said she had "very democratic parents."
"I think my dad is always telling me to be always independent." Some years after she dropped out of school, she started a fishing distribution and export company and later an airline -- Susi Air -- that has grown to 50 mostly-small aircraft and includes a charter business.
Susi Air, which flies around 200 domestic routes, including to dangerous mountainous locations, suffered several fatal crashes in the space of less than a year through April 2012 and was one of several Indonesian airlines to have some routes suspended in 2015. Its website says it regularly flies to remote areas to deliver vital supplies. Multiple calls to Susi Air office numbers went unanswered, and the transport ministry said it was not in a position to comment on its safety record.
Pudjiastuti has been coy about her political future, saying she will eventually return to Susi Air. Still, she smiled when asked about the potential for a bigger role, before noting there are people asking her to stay.
"I'm happy in marine affairs," she said. "I just want to work on making things different."
--With assistance from Bloomberg's Nick Wadhams
© 2016 Bloomberg L.P
(This story has not been edited by NDTV staff and is auto-generated from a syndicated feed.)
Get Breaking news, live coverage, and Latest News from India and around the world on NDTV.com. Catch all the Live TV action on NDTV 24x7 and NDTV India. Like us on Facebook or follow us on Twitter and Instagram for latest news and live news updates.