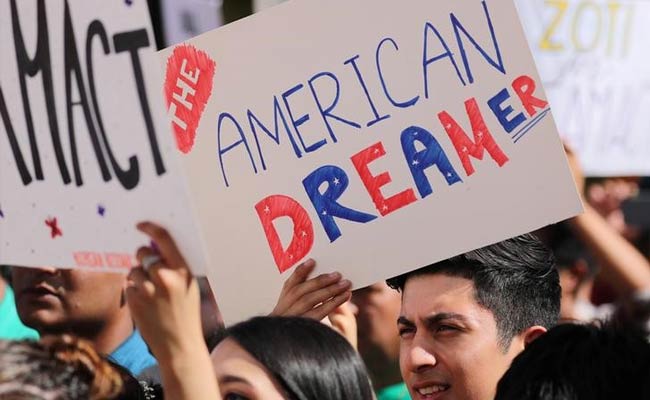 Washington:
America's so-called "Dreamer" immigrants and supportive lawmakers were left fuming and fearful Friday after anti-deportation measures were left out of a federal spending bill signed by President Donald Trump.
More than six months after Trump announced he was scrapping an Obama-era program that protected hundreds of thousands of immigrants who arrived in the country illegally as children, he signed the controversial measure into law -- then blamed Democrats for the collapse of immigration negotiations.
"The Republicans are with you, they want to get your situation taken care of," Trump said at the White House.
Democrats, he said, fought against a deal for Dreamers "every single inch of the way. They did not want DACA in this bill."
Some 690,000 immigrants are registered under the Deferred Action for Childhood Arrivals (DACA) program that Trump ended on March 5.
After that deadline came and went, and the spending bill left out immigration, Trump's claim that he had Dreamers' best interests at heart provoked an uproar among immigrants and Democratic lawmakers.
"I'm actually angry at this point," Francis Madi, a 28-year-old Dreamer and activist in New York, told AFP.
"We don't know what's the next step," said Venezuelan-born Madi.
Student Lizbeth Huitzil, 19, who arrived from Mexico 14 years ago, said she felt let down by the president "blaming another party, when it's he who can make a decision" on supporting a DACA fix.
"It's still scary, because you don't know what your status is going to be," she said.
Several Democratic lawmakers blasted Trump for his remarks.
"You are the one who put an expiration date on Dreamers' backs, then refused to compromise to fix #DACA," Senator Ben Cardin tweeted.
Senator Dianne Feinstein added: "If there is no DACA fix today it's because the president didn't want one."
Trump had multiple chances to craft a DACA fix with Congress. But one never materialized, despite overwhelming public support for letting Dreamers stay.
In January he implored lawmakers to pass a "bill of love" to resolve the standoff. But he rejected a plan providing a pathway to citizenship for Dreamers in exchange for $25 billion in border security, including his much-promised wall.
Meanwhile the fate of Dreamers rests with federal courts, whose rulings have blocked Trump's administration from ending DACA for now, and ordered the resumption of DACA permit renewals.
But the actions can be overturned by a higher court.
Congressional Hispanic Caucus chairwoman Michelle Lujan Grisham said Trump is to blame for the latest impasse.
"By not including a permanent fix for Dreamers in the omnibus (spending bill), the president and Republicans have prolonged this self-inflicted crisis and have left Dreamers in limbo and at the mercy of a temporary court injunction," she said.