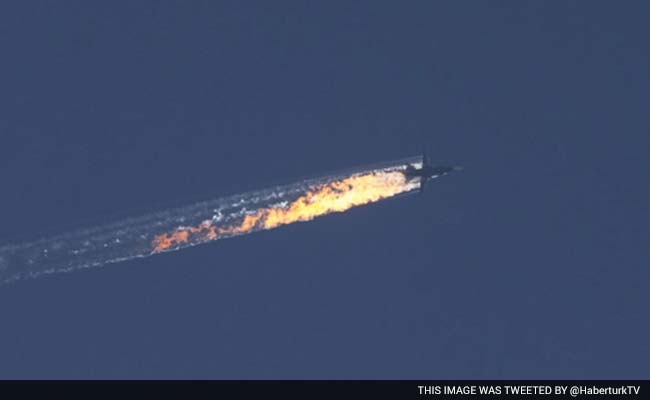 Moscow:
Russian President Vladimir Putin has called Turkey's decision to down a Russian warplane near the Syria border a "stab in the back by the accomplices of terrorists."
Speaking at a meeting with Jordanian King Abdullah II, Mr Putin today accepted his condolences on the death of a Russian pilot who was reportedly captured and died.
Mr Putin said the Russian SU-24 jet was shot by a missile from a Turkish jet over Syria about 1 km away from the Turkish border. He warned that the incident would have "significant consequences" for Russia's relations with Turkey and criticized Ankara for turning to NATO to discuss the incident instead of first explaining to Russia what happened.
"Today's tragic event will have serious consequences for Russian-Turkish relations... We will of course carefully analyse everything that happened," Mr Putin said, adding, "Our plane was shot down over the territory of Syria by an air-to-air missile from a Turkish F-16 jet. It fell in Syrian territory four kilometres from the border with Turkey... Our pilots and our plane did not in any way threaten Turkey."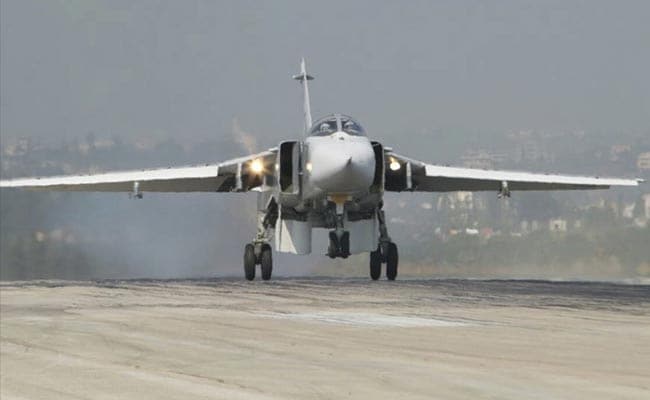 Turkish Prime Minister Ahmet Davutoglu meanwhile said that Turkey had a duty to act against anyone violating its borders. Ankara has alleged that the Russian fighter violated Turkey's airspace.
"Everyone must know that it is our international right and national duty to take any measure against whoever violates our air or land borders," Mr Davutoglu said in Ankara.
Turkey says it shot down the warplane after repeated warnings over air space violations.
It was the first time a NATO member's armed forces have downed a Russian or Soviet military aircraft since the 1950s and Russian and Turkish assets fell on fears of an escalation between the former Cold War enemies.
Footage from private Turkish broadcaster Haberturk TV showed the warplane going down in flames in a woodland area, a long plume of smoke trailing behind it. The plane went down in area known by Turks as "Turkmen Mountain", it said.
Separate footage from Turkey's Anadolu Agency showed two pilots parachuting out of the jet before it crashed. A Syrian rebel group sent a video to Reuters that appeared to show one of the pilots immobile and badly wounded on the ground and an official from the group said he was dead.
Russia's defence ministry said one of its Su-24 fighter jets had been downed in Syria and that, according to preliminary information, the pilots were able to eject. It said the aircraft had been over Syria for the duration of its flight.
The Turkish military said the aircraft had been warned 10 times in the space of five minutes about violating Turkish airspace. Officials said a second plane had also approached the border and been warned.
"The data we have is very clear. There were two planes approaching our border, we warned them as they were getting too close," a senior Turkish official told Reuters.
"We warned them to avoid entering Turkish airspace before they did, and we warned them many times. Our findings show clearly that Turkish airspace was violated multiple times. And they violated it knowingly," the official said.
A second official said the incident was not an action against any specific country but a move to defend Turkey's sovereign territory within its rules of engagement.