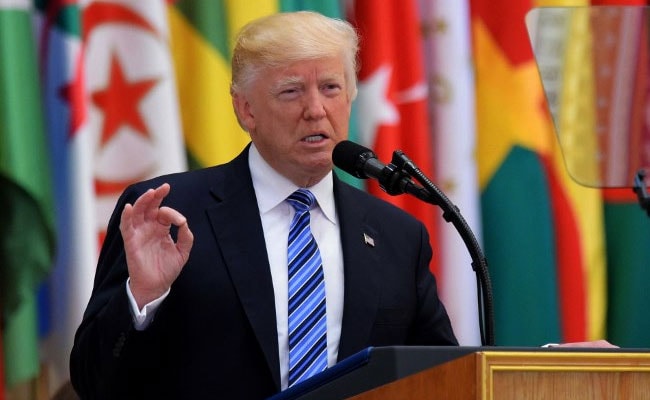 London:
President Donald Trump on Thursday described US intelligence leaks over the Manchester bombing as "deeply troubling" and threatened to prosecute those responsible, after a warning by British Prime Minister Theresa May to keep shared data "secure".
In a statement issued by the White House, as Trump joined May at a meeting of NATO allies, he said: "There is no relationship we cherish more than the special relationship between the United States and the United Kingdom."
The British government has expressed its anger at the release in US media of details from the investigation into Monday's concert attack, including photographs of parts of the bomb which left 22 people dead, including children.
Arriving in Brussels, May warned that intelligence sharing with the United States was "built on trust".
"Part of that is knowing intelligence can be shared confidently and I will make clear to President Trump that intelligence shared with law enforcement agencies must be secure," she told reporters.
Visiting the military alliance's new $1.2 billion headquarters with fellow leaders later, Trump led a moment's silence for the victims of what he described as "a barbaric and vicious attack on our civilisation".
In his statement, Trump -- who was already struggling domestically to stem a tide of damaging leaks from law enforcement agencies -- said the information coming out in the US media was "deeply troubling".
"These leaks have been going on for a long time and my administration will get to the bottom of this. The leaks of sensitive information pose a grave threat to our national security," he said.
"I am asking the Department of Justice and other relevant agencies to launch a complete review of this matter, and if appropriate, the culprit should be prosecuted to the fullest extent of the law."
In his NATO speech, he said: "Prime minister May, all of the nations here today grieve with you and stand with you."
"The recent attack on Manchester in the UK demonstrates the depths of the evil we face with terrorism," he said.
"Innocent little girls and so many others were horribly murdered and badly injured while attending a concert -- beautiful lives with so much great potential, torn from their families for ever and ever."