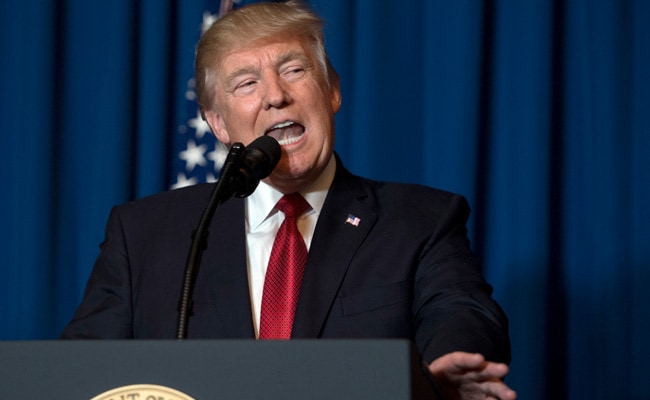 Washington, United States:
With his shoot-from-the-hip tweets targeting US spies and alleged Oval Office leak of secrets to the Russians, President Donald Trump has damaged White House relations with American and allied intelligence agencies and put national security at risk, current and former officials said Tuesday.
Diplomats, former intelligence officials and senior politicians said Trump's attitude could make allies less willing to share their secrets with the United States, and render US spy chiefs less able to provide the White House with crucial security information.
Ex-CIA director Leon Panetta warned that Trump's behavior risks polluting relations between the intelligence agencies of the United States and its allies.
"He cannot just, you know, go ahead and reveal classified information without creating some huge problems within the intelligence community," Panetta said on CNN, reacting to an explosive Washington Post report claiming Trump shared top secret information with Russia's foreign minister and its ambassador to the United States.
The information allegedly leaked to the Russians, reportedly on ISIS group efforts to place laptop computer bombs on commercial aircraft flights, was provided by a Middle Eastern country "that made very clear that they did not want this intelligence shared," Panetta said.
"The damage is that this country may cut off any kind of intelligence provided to the United States on very sensitive issues that relate to the national security of this country."
The New York Times reported that the information was provided, at least in part, by Israel -- which had allegedly urged Washington be careful in handling it.
'Holy grail' at risk
Douglas Smith, a former assistant secretary of Homeland Security, said Trump appeared to put at risk the "holy grail" of the spy world: the means and methods of intelligence collection.
"Imagine how a foreign government is going to feel when information they view as highly sensitive -- they've probably collected it in a very secretive and challenging way -- is so cavalierly given away to a foreign power who is by no means our friend."
Trump's controversial meeting with Russian diplomats came one day after he threw his administration into turmoil by taking the rare step of firing his FBI director James Comey, who had been overseeing investigations into possible Trump campaign collusion with Russia to skew the 2016 election.
Veteran Republican Senator John McCain warned that reports Trump divulged to Russia information provided by a US ally "sends a troubling signal to America's allies and partners around the world and may impair their willingness to share intelligence with us in the future."
Karin Von Hippel, director-general of London's RUSI military think tank, predicted "there's definitely going to be nervousness about what to share and when," although she was confident sharing "won't come to a standstill."
That message was echoed by Yves Trotignon, a former counter-terrorism analyst for France's DGSE intelligence agency, now with risk consultant Riskeco, who said Trump violated a basic tenet of intelligence sharing.
"We don't give intelligence supplied by one ally's service to another, unless everything has been made very clear. This is a basic rule which President Trump obviously does not know," he told AFP. "The United States cannot afford to lose the confidence of its allies that could at one point leave it on its own."
Keeping politics out
The twin developments of Comey's ouster and Trump's alleged sharing of secrets with Moscow have raised concerns to a new level within the intelligence community.
US presidents strive for strong relationships with their top intelligence advisors as soon as they come into office.
The country's security can rest heavily on the level of trust between the president and the heads of the Central Intelligence Agency, the National Security Agency, the Defense Intelligence Agency, the Federal Bureau of Investigation, and the Director of National Intelligence.
Trump has made little apparent effort to cement those ties -- as illustrated most dramatically, but far from exclusively, by Comey's abrupt dismissal.
In four months since becoming president, Trump has insulted the CIA as chronic leakers, rejected unanimous assessments that Russia meddled in the 2016 election, skipped daily intelligence briefings, and named widely distrusted former army general Michael Flynn, who was fired by his predecessor Barack Obama, to be his national security advisor.
Stephen Slick, a former CIA operations officer and now director of the Intelligence Studies Project at the University of Texas-Austin, said rank-and-file intelligence officers remain apolitical and focused on their work.
He noted, however, that the heads of the key agencies were political figures -- with a duty to keep politics out of the intelligence process.
"It is important that they use their experience to insulate the intelligence process and products from politics, and resist efforts by the administration or its critics to draw the community into ongoing partisan frays," he told AFP.
(This story has not been edited by NDTV staff and is auto-generated from a syndicated feed.)