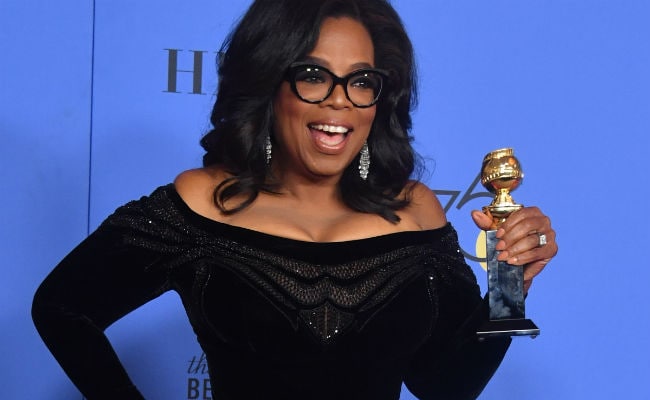 After an early morning tweetstorm Sunday, President Donald Trump took to Twitter again later that night, this time lashing out at whom some hope will be a 2020 rival: Oprah Winfrey.
"Just watched a very insecure Oprah Winfrey, who at one point I knew very well, interview a panel of people on 60 Minutes. The questions were biased and slanted, the facts incorrect. Hope Oprah runs so she can be exposed and defeated just like all of the others!" the president tweeted.
Trump was referring to Winfrey's interview with "60 Minutes," where the former talk show host again said she has no desire to run for president, despite encouragement from wealthy donors after her stirring Golden Globes speech last month.
"I am actually humbled by the fact that people think that I could be a leader of the free world, but it's just not in my spirit. It's not in my DNA," she told correspondent Ann Silvio.
Trump's tweet followed a familiar pattern: He asserts to have once known a rival or critic "very well," but once he sees them as an enemy, he threatens to expose them, like he did with Senate Minority Leader Charles Schumer, D-N.Y., and Sen. Cory Booker, D-N.J.
Trump and Winfrey are familiar with each other, as the president said in his tweet. Whether they know each other "very well," as he claims, is more subjective. Winfrey interviewed Trump on her show shortly after he had taken out a full-page ad during the 1988 presidential race in which he criticized U.S. foreign policy.
When Winfrey asked Trump in that interview whether he would ever pivot from real estate to politics, he said he would "never want to rule it out totally, because I really am tired of seeing what's happening with this country, how we're really making other people live like kings and we're not."
Twenty years after that interview, many Americans are hoping Winfrey feels the same and decides to run. Days after Winfrey's Golden Globes speech, a Quinnipiac poll showed she would get 52 percent of the vote if she ran against Trump.
But for now, Winfrey is using her platform to ask Americans how they feel about Trump's comments and policies, which is what it appears the president took issue with Sunday.
While moderating a panel of voters during the "60 Minutes" segment, Winfrey asked how they felt about Trump's recent comments referring to immigrants from "s---hole countries" such as Haiti and African nations.
After one Trump supporter defended the president's comments, Winfrey pushed back.
"Come on, Matt. If you're talking about . . . Matt, if you're talking about the country, you're talking about the people in the country. When he's talking about Norway or Norwegians, he's talking about Norwegians," she said.
She went on to ask questions about Trump's fitness for office, his temperament and the sexual misconduct allegations he faces.
Those questions are what appear to have set Trump off, triggering his tweet calling the fellow billionaire "insecure " - something that people across the political spectrum found ironic, given his recent insistence that he is a "very stable genius" and "like, really smart."
Trump's approval ratings among Americans are inching upward but remain low, particularly among those who are attracted to the idea of a Winfrey presidency.
But perhaps Winfrey's greatest threat to Trump is not a potential presidential bid but rather her interviews with these focus groups - where Trump's supporters are confronted with the president's words and actions in front of people outside their bubble.
While Trump has been criticized as a highly divisive leader, Winfrey is known for her broad appeal across gender, racial and even political lines. During the president's inauguration speech, he pledged to be a unifier. But Winfrey's focus group reminded viewers that some Americans see him as anything but - and that likely concerns Trump.
(This story has not been edited by NDTV staff and is auto-generated from a syndicated feed.)