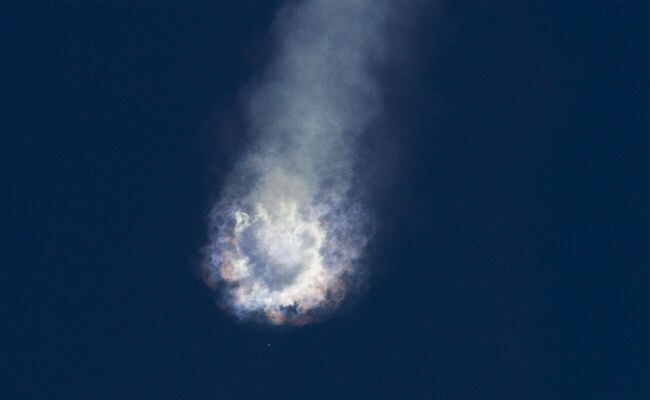 Washington:
A Falcon 9 rocket accident last month should not eliminate SpaceX from the competition to launch a new GPS satellite, U.S. Air Force Secretary Deborah James said on Wednesday, since there would be "plenty of time" to test the rocket before any future launch.
James told Reuters in an interview that SpaceX remained certified to participate in the competition, expected to kick off in coming weeks. She noted that any future launch would not occur for about two years.
She said the decision was in keeping with an independent report released earlier this year, which chided the Air Force for focussing too much on the mission readiness of SpaceX vehicles too early in the process.
"If SpaceX were to win, it would be two years before the launch, more or less, and there would be plenty of time to make sure they would be mission ready," James said.
Last week, the Air Force announced that Space Exploration Technologies, or SpaceX, could still compete in what will be its first major rocket launch competition in more than a decade.
SpaceX CEO Elon Musk this week said the company is still trying to understand what caused the Falcon 9 rocket to explode after liftoff on June 28, given conflicting data radioed back to the ground before the blast.
James said SpaceX President Gwynne Shotwell called her after the accident to reassure her that the company was taking the incident seriously and was "going to get to the bottom of it."
Air Force officials are participating in the SpaceX-led investigation into the accident, which destroyed a load of cargo headed for the International Space Station.
"These things happen. Any time there is an accident it's just another proof point that this is a risky business. This is hard science and things can go wrong," James said.
James said people often forgot earlier accidents that occurred before the current track record of 83 consecutive, successful launches by United Launch Alliance, a joint venture of Lockheed Martin Corp.
"People can recover from accidents. Accidents can happen anywhere. There just needs to be a way to demonstrate that whatever the root cause was has been corrected (and) there's been some retesting," she said.
One former Air Force official said additional cost would be added to SpaceX's proposed pricing during an assessment of the competing bids, to reflect the added risk involved in using a rocket that had suffered a major accident.
© Thomson Reuters 2015