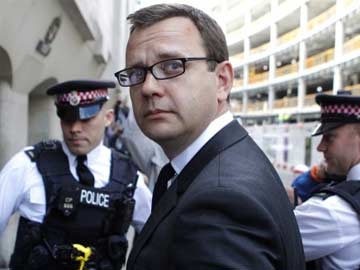 London:
British Prime Minister David Cameron's former communications chief Andy Coulson who has been convicted in a high-profile phone hacking case at Rupert Murdoch's now defunct tabloid 'News of the World', was today charged with three counts of perjury by a Scottish court.
The 46-year-old former editor at the now defunct tabloid has been accused of lying in evidence he gave about phone hacking at a trial of ex-Scottish Socialist MSP, Tommy Sheridan.
In a three-page indictment handed down at the high court in Glasgow, Coulson has been accused of lying about his knowledge of the phone hacking, about his knowledge of the "culture" of hacking at the paper and also about his knowledge of payments allegedly made to corrupt police officers while he was editor of the paper.
Coulson did not attend the hour-long preliminary hearing and did not enter a plea.
The crown claimed that he had lied as a witness in the trial of Sheridan and his wife Gail in December 2010.
The first count of perjury relates to the period prior to the 2006 arrest of Glenn Mulcaire, the private investigator who has been found guilty of a phone-hacking conspiracy while contracted to the 'News of the World'.
Among the nine instances of alleged falsehoods, it is alleged that Coulson falsely claimed that he did not know that his royal editor Clive Goodman was involved in hacking, that he did not know payments were being paid to Mulcaire for hacking and that he had not heard Mulcaire's name prior to his arrest.
Goodman and Mulcaire were jailed in 2007 in relation to phone hacking charges covering the period when Coulson was editor of 'News of the World'.
Former Scottish Socialist Party leader and Solidarity MSP Sheridan was awarded Pound 200,000 in damages after winning a defamation case against the 'News of the World' in 2006.
The now defunct tabloid printed allegations about his private life, which included claims that he visited a swingers' club and cheated on his wife.
Sheridan was later jailed for three years for committing perjury during the case.
He has continued to maintain his innocence. A further hearing has been set for October, with a trial expected to take place early next year.