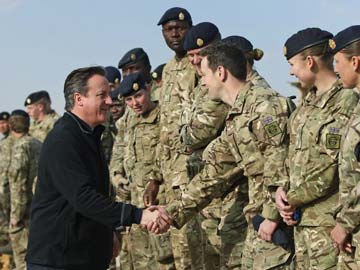 British Prime Minister David Cameron faced criticism on Tuesday for saying that foreign troops had accomplished their mission of providing security in Afghanistan, in an echo of former US president George W. Bush's much-derided comments on Iraq in 2003.
During an annual Christmas visit to British troops in Afghanistan on Monday, Cameron was asked about the ongoing unrest ahead of the scheduled end of international combat operations in a year's time.
Asked if British soldiers will be coming home with "mission accomplished", Cameron told British media: "Yes, I think they do. I think they can come home with their heads held high."
"To me, the absolute driving part of the mission is a basic level of security so it doesn't become a haven for terror," he added.
"That is the mission, that was the mission and I think we will have accomplished that mission and so our troops can be very proud of what they have done."
Cameron said the situation was "totally transformed" from when troops in the US-led coalition invaded Afghanistan in October 2001 after Al-Qaeda's 9/11 attacks on New York and Washington DC.
Bush infamously stood in front of a huge banner saying "Mission Accomplished" on a US aircraft carrier six weeks after the March 2003 invasion of Iraq and declared that "major combat operations in Iraq have ended."
But Iraq has suffered a decade of bloodshed since the invasion that is estimated to have caused at least 112,000 civilian deaths.
Opposition politicians and British newspapers criticised Conservative leader Cameron's comments.
Vernon Coaker, defence spokesman for the opposition Labour party, said Cameron "should have chosen his words more carefully."
"We can be proud of the contribution that Britain's armed forces have made and are making in Afghanistan. But the mission is ongoing and our troops will be on the frontline until well into next year," he said.
"In the run-up to Christmas, our brave servicemen and women and their families will be acutely aware that the job is not done in Afghanistan."
The Times newspaper said in an editorial that it was still "Mission Unaccomplished."
"After 12 years of fighting in Afghanistan, it would have been a fitting tribute to the dead and injured if the prime minister had been able to tell Britain's troops, with no exaggeration, that their mission was accomplished," it said.
"Wishing it, however, does not make it so. Saying it, despite depressing evidence to the contrary is simply foolish."
A cartoon in the paper showed a red-cheeked Cameron holding aloft a British flag banner saying: "Mission Unaccomplished. Thousands dead, corruption, women subjugated, drugs, stoning."
The Sun, Britain's biggest selling newspaper accused Cameron of "idiocy."
"We can only hope that David Cameron does not come to regret his words as much as President Bush," the tabloid said in an editorial.
Cameron's spokesman defended the comments, saying that the words "mission accomplished", were introduced by a reporter.
"I think it's understandable. He was asked a question, he answered in the way he did," said the spokesman.
"The prime minister was explaining what the armed forces have achieved. Is the situation in Afghanistan a perfect one? As the prime minister himself has said, no."
Get Breaking news, live coverage, and Latest News from India and around the world on NDTV.com. Catch all the Live TV action on NDTV 24x7 and NDTV India. Like us on Facebook or follow us on Twitter and Instagram for latest news and live news updates.