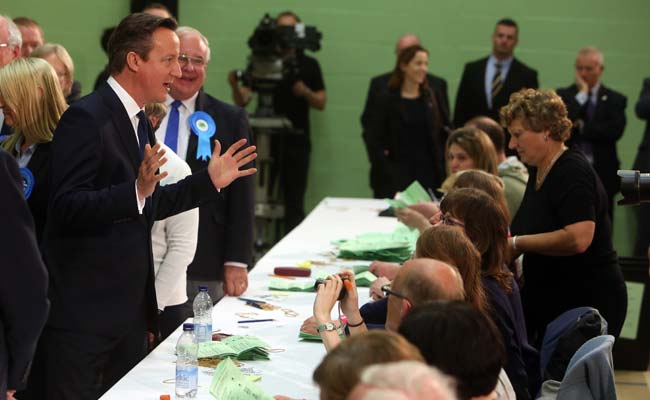 LONDON:
Drinkers at a pub near the skyscrapers of the London's financial district toasted indications that Britain could be headed for a second government led by Prime Minister David Cameron today.
As an exit poll showed his centre-right Conservative party ahead and results began to filter through, the drink was flowing as one of Britain's many election night parties got underway.
The mood was upbeat at the Draft House, a bar in the heart of the City of London, the financial and historical centre of the capital and traditionally a stronghold of Conservative support as well as a key source of donors for the party during the campaign.
"I voted for the Conservatives because Labour is not competent on financial matters," said Ben Woodthorpe, 39, as he sipped a beer.
"It's very exciting because it's too close to call."
Several fellow City workers shouted "Hooray!" as a television screen flashed up the exit poll showing Cameron set to take more seats than predicted -- albeit just short of an outright majority.
There were smiles all round as several drinkers gave victory signs.
"Why would you change? The economy is doing well after five years with the Conservatives," said City worker Grant.
Polls up to the eve of the election had indicated the vote would be one of Britain's closest in decades, but the exit poll confounded expectations by showing the Labour party of Ed Miliband losing seats.
'Absolute delight'
Meanwhile at a party for the Young Conservatives group, around 100 activists gathered in a sports bar in central London watching the results come in.
"Absolute delight," was how Alexandra Paterson, National Chairman of Conservative Future, summed up her feelings.
"British people voted for competence," she added. "I am absolutely thrilled, it's wonderful news, it's really what this country needs."
Fellow Conservative activist Christopher Jackson, 25, said the results followed "a lot of hard work", particularly in closely-fought London seats.
"I think the general mood is one of real encouragement," Jackson said. "When people saw those exit polls, I think it really lightened up the mood, you could see people, visibly were a lot more excited."
What might have swung it? Meredith Lloyd, 27, said he believed it was due to concerns of voters in England and Wales at the prospect of a government involving the Scottish National Party (SNP).
The pro-independence SNP had talked up its prospects of propping up a minority Labour government during the election campaign. The SNP is now forecast to win all bar one of the 59 seats north of the border.
"There is a wish for a strong government," he added. "People put stability as one of their first priorities."