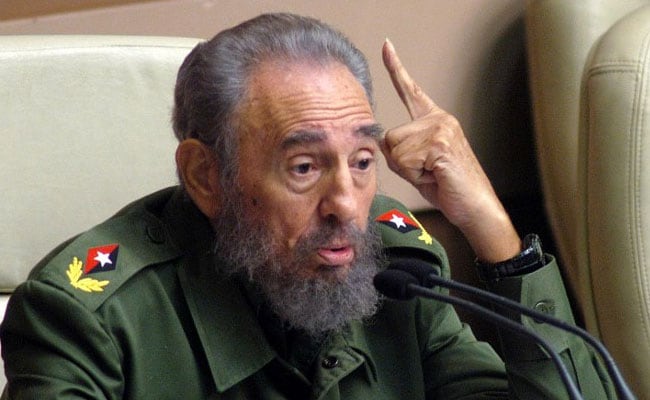 Havana, Cuba:
Authorities across Cuba have cracked down on dissidents, arresting dozens, keeping others from marching in Havana, and detaining an American human rights lawyer, activists said Sunday.
In the first such anti-dissident operation since Fidel Castro's death last month, President Raul Castro seemed to indicate the Americas' only one-party communist state was in no mood for dissent.
A roundup in the country's east snared dozens and derailed street protests planned to demand that political prisoners be freed.
"There was a joint operation at 6:00 am in Santiago and Palma Soriano. They searched four homes, and so far we have 42 reported arrests -- 20 in Santiago, 12 in Palma and 10 in Havana," Jose Daniel Ferrer told AFP by phone.
The 46-year-old, who heads the Patriotic Union of Cuba (Unpacu), had called the demonstrations to demand that political prisoners be set free. Castro insists there are no political prisoners, just lawbreakers.
Ferrer said he was detained in Santiago, Cuba's second biggest city, at a police unit known as Micro 9.
"They threatened me, and said by calling the demonstration I was facilitating public disorder.... disobedience and espionage," Ferrer said.
Most arrests of dissidents in roundups are brief. Sometimes, the authorities prevent them from leaving their homes to attend a protest or march.
Ladies In White, Shut In
In Havana, the award-winning Ladies in White group, which presses for the release of jailed dissidents who are their relatives, said that at least 20 of its activists were "under siege," kept from attending their weekly march.
"At least 20 homes were blocking the residents to keep us from marching today," said group leader Berta Soler.
It was a step backward for the Ladies in White. They long have been considered the only dissidents the Cuban government allowed to march regularly; they hold one weekly protest outside a church in Havana.
But not this Sunday, Soler said.
US Rights Lawyer Held, Freed
Kimberley Motley, an American human rights lawyer, was briefly detained on Friday along with Cuban activists Gorki Avila and Luis Alberto Marino when they planned to visit graffiti artist Danilo Maldonado, known as "El Sexto," in jail.
Maldonado was also arrested on November 26, a day after the death of Cuban revolutionary icon Fidel Castro, after painting on a wall in Havana the phrase "He's gone," her relatives say.
According to online newspaper 14 y medio, Motley left Cuba at the request of the government.
She tweeted "Thanks for all the love and support safely back home in the U.S. Will not stop fighting to free @dmmelsexto."
Cuban authorities have not confirmed the arrests.
The United States and Cuba re-established ties in July 2015 after breaking them off for more than half a century.
Despite advances in relations between the former Cold War rivals -- which include a slew of bilateral agreements and more than 208,000 US citizens visiting Cuba this year -- Washington has not lifted the full economic embargo imposed on Cuba since 1962.