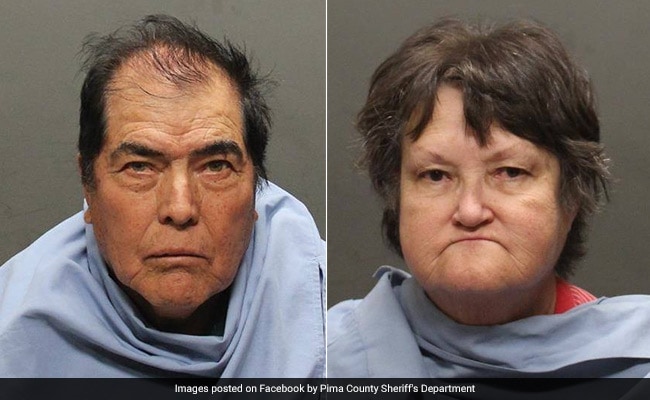 A boy who asked to use the phone at a Family Dollar in Tucson, Arizona, led sheriff's deputies to the home where he and his siblings were often locked in their rooms without food, water, lights or bathrooms, authorities said.
On Saturday, the boy asked a clerk at the bargain store to use the phone, which prompted him to call 911 because of the boy's "disheveled" appearance, said Deputy James Allerton, a spokesman for the Pima County Sheriff's Department. When police arrived at the boy's home on North Flowing Wells Road, they found four children living with their adoptive parents, who would allegedly keep the children locked in separate bedrooms for up to 12 hours at a time.
The boy who alerted police to the situation had managed to escape from his bedroom through a window, Allerton said.
The two parents, Benito Gutierrez, 69, and Carol Gutierrez, 64, have been charged with three counts of child abuse and are currently being held in the Pima County Detention Center.
The couple is accused of locking the children, who range in age from 6 to 12, without access to food, water, lights or a bathroom - with the exception of one child, whose bedroom had a bucket that served as a toilet. It is unclear how long the children had been living in the home, Allerton said.
The children have been removed from the home by the Arizona Department of Child Safety, said spokesman Darren DaRonco. Allerton said he did not know where they were taken.
The discovery of the children's living conditions comes one month after a 17-year-old girl escaped from a Perris, California, house and revealed to the world the disturbing living conditions of her home. The girl and her 12 siblings, with the exception of a 2-year-old baby, were severely malnourished. When they misbehaved, they would be chained to their beds for long periods of time without access to a bathroom. The siblings, who range in age from 2 to 29 years old, rarely left their house and did not go to school. Instead, they were taught at home, prosecutors said, but were forced to sleep all day and stay up at night, typically going to sleep at 4 or 5 a.m.
It's unclear whether Benito and Carol Gutierrez had been on the radar of the state Department of Child Safety for abuse, or whether they had gone through the appropriate process to become certified adoptive parents. A spokesman for the department has not yet responded to a call or email from The Washington Post.
DaRonco said that in order for a parent to provide foster care to a child they must undergo a thorough vetting process. Officials look into their social history, finances, moral fitness, physical and mental health, criminal background and whether they've had a previous history with child abuse.
Foster parents receive quarterly home visits from their licensing agents and monthly visits from the Department of Child Safety, DaRonco said. But once a foster parent adopts a child, the Department of Child Safety is no longer involved with the family, he said.
"Despite all of these safeguards, people are sometimes able to avoid detection, especially if a person has no prior criminal or child abuse history," he said.
The couple does not appear to have a criminal history, according to court documents.
(This story has not been edited by NDTV staff and is auto-generated from a syndicated feed.)