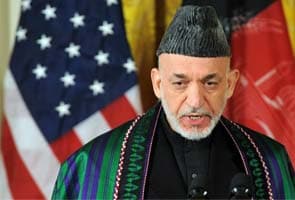 Kabul:
Revelations that the CIA handed cash payments to Afghanistan's presidential office provoked criticism but little surprise from opposition groups and transparency campaigners in Kabul on Tuesday.
The New York Times reported on Monday that the US Central Intelligence Agency had delivered tens of millions of dollars in suitcases and backpacks to President Hamid Karzai's office over the past decade.
Karzai declined to deny the report, instead expressing his thanks to the spy agency for what he called "small" amounts of money that were put to good use such as helping ill and wounded Afghans.
But critics said the secret payments undermined the president's claim that he was fighting against US interference and trying to establish Afghan sovereignty.
"Such money given to the office of the president is no doubt used to strengthen his position and weaken other democratic political groups," Sayed Fazel Sancharaki, spokesman for the opposition National Coalition, told AFP.
"These payments highlight President Karzai's lack of loyalty. It's very unfortunate that such money is given in a non-transparent way and by foreign intelligence agencies."
Afghanistan relies on international aid to pay its army and police and to fund most of its investments, but the Times said the CIA cash had been used to pay off warlords, lawmakers and others on whom Karzai relied for support.
"Karzai is trying to give an independent picture of Afghanistan and of himself, and this definitely undermines his efforts," Waheed Wafa, director of the Afghanistan Centre at Kabul University, told AFP.
More than 11 years after the Taliban were ousted, the president has taken an increasingly anti-US stance as he prepares to step down when elections are held next year.
But news of the CIA payments has dealt a further blow to his hopes of leaving office with a reputation as a strong nationalist leader who stood up to foreign meddling.
"His receiving cash from foreign agencies casts a big shadow over the independence and sovereignty of Afghanistan," said Mahmoud Saikal, an anti-corruption campaigner and former deputy foreign minister.
"This reveals he doesn't believe that his Afghanistan is a functioning state. He believes in illegality and he uses such money to buy supporters, patronage and to rally power."
Karzai openly acknowledged in 2010 that Iran had made cash payments to one of his top aides.