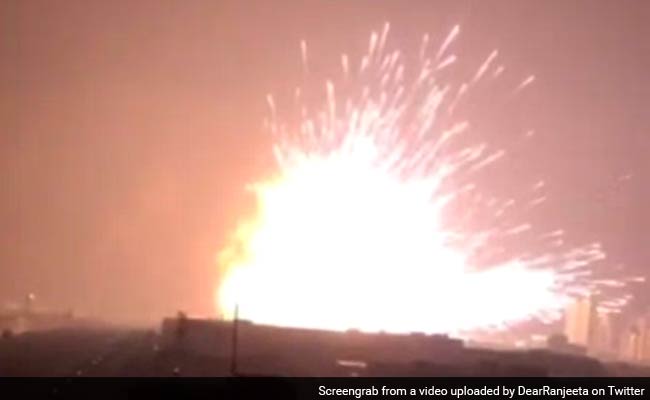 TIANJIN, China:
A senior Chinese official defended fire fighters who initially hosed water on a blaze in a warehouse in northeast China where volatile chemicals were stored, a response foreign experts said could have contributed to two huge blasts that killed 54 people.
More than a dozen firefighters were among those killed by the massive explosions at the busy port in Tianjin city on Wednesday night, state media said. About 700 people were injured, 71 seriously.
Columns of smoke from fires still burning on Friday rose from the blast site amid the devastation of crumpled shipping containers, thousands of torched cars and port buildings reduced to burnt-out shells. Rescuers pulled one survivor, from the wreckage, a city official told reporters. State television later said it was a firefighter.
The warehouse, designed to house dangerous and toxic chemicals, was storing mainly ammonium nitrate, potassium nitrate and calcium carbide at the time of the blasts, according to police. The official Xinhua news agency has said several containers in the warehouse caught fire before the explosions.
Chemical safety experts said calcium carbide reacts with water to create acetylene, a highly explosive gas. An explosion could be caused if fire fighters sprayed the calcium carbide with water, they said.
Lei Jinde, the deputy propaganda department head of China's fire department, a part of the Ministry of Public Security, told state-backed news website ThePaper.cn that the first group of fire fighters on the scene had used water.
"We knew there was calcium carbide inside but we didn't know whether it had already exploded," he said.
"At that point no one knew, it wasn't that the fire fighters were stupid," Lei said, adding that it was a large warehouse and they didn't know the exact location of the calcium carbide.
CCTV reported that another four firefighters were confirmed dead and 13 were still missing. Xinhua said earlier that 66 firefighters were among the hundreds of people hospitalised.
David Leggett, a chemical safety expert based in California, told Reuters the acetylene explosion could have detonated the ammonium nitrate. The two blasts were about 30 seconds apart, the second much larger than the first.
"In my mind, the presence of ammonium nitrate makes it easier to explain the level of devastation," he said.
Stuart Prescott, a senior lecturer in chemical engineering at the University of New South Wales in Australia, said water was recommended to extinguish the two nitrates but a chemical powder was needed for calcium carbide.
"Calcium carbide reacts with the water and that's a reasonably violent reaction in and of itself, because it releases gas. The gas itself is also flammable," he said.
Assessing damage
The explosions at the port, the world's 10th largest, were so big they were seen by satellites in space and registered on earthquake sensors.
A team from the International Atomic Energy Agency's Beijing environmental emergency response centre, as well as 214 Chinese military nuclear and biochemical materials specialists, had gone to Tianjin, Xinhua said.
Several thousand residents were moved to 10 nearby schools after apartment buildings and homes were damaged, mainly by shockwaves from the explosions, it said.
Foreign companies from across the globe were trying to determine the damage to their facilities in and around the port, a gateway to northeast China.
French carmaker Renault said its warehouse at the port sustained severe damage and nearly 1,500 of its cars stored there were burned, according to early estimates.
Several Japanese automakers including Toyota Motor Corp reported minor damage to cars and facilities.
Mining giant BHP Billiton said its port operations and shipments were disrupted but its iron ore discharging berth had not been damaged.
Oil tanker arrivals and departures were also disrupted.
John Deere & Co, the U.S. farm and construction equipment maker, said several workers who were at home at the time were injured, some critically.
Packaging "sub-standard"
Xinhua identified the owner of the warehouse as Tianjin Dongjiang Port Ruihai International Logistics. The state-backed China Daily newspaper said its manager had been detained.
The Tianjin Maritime Safety Administration said the company violated packaging standards during a safety inspection two years ago.
Of 4,325 containers that were checked, five failed the inspection because packaging was sub-standard, according to a report posted on the administration's website in January 2014.
The company's website said it was a government-approved firm specialising in handling "dangerous goods". Phone numbers listed on its website were disconnected and an email to the company went unanswered.
President Xi Jinping said those responsible should be "severely handled".
Industrial accidents are not uncommon in China following three decades of breakneck economic growth. A blast at an auto parts factory in eastern China killed 75 people a year ago when a room filled with metal dust exploded.
Wednesday's blasts sent shockwaves through apartment blocks kilometres away in the port city of 15 million people. Internet videos showed fireballs shooting into the sky.
The blasts shattered windows in buildings and cars and knocked down walls in a 2-km radius around the site.
© Thomson Reuters 2015