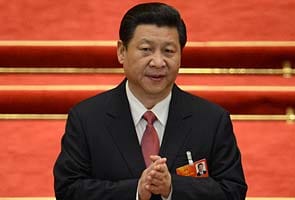 Beijing:
Newly-elected Chinese President Xi Jinping today offered his support in protecting Sri Lanka's national sovereignty, hinting at Beijing's backing to stave off a US-backed resolution against the country at UN Rights Council.
Mr Xi told his Sri Lankan counterpart Mahenda Rajapakse over phone that China supports his country's efforts to protect its national sovereignty, and would continue to offer assistance.
China backed Sri Lanka when US brought about similar resolution last year over alleged human rights violation during the country's nearly three-decade long civil war.
It appears that Beijing may do the same, if comes to voting, continuing its efforts to court Colombo, much to discomfiture of India.
During their telephone conversation, Mr Rajapaksa congratulated Mr Xi on his election as Chinese president, and said the two countries are close friends, according to state-run Xinhua news agency reported.
The Sri Lankan people appreciate China's assistance to help the country promote peace, stability and development.
Thanking Mr Rajapaksa for his congratulations, Mr Xi said China and Sri Lanka are friendly neighbours. For many years, bilateral ties have maintained a healthy and stable development momentum, with fruitful cooperation in all sectors.
Mr Xi also thanked the Sri Lankan president for the country's long-term support on issues regarding China's core interests and said China highly values the development of its relations with Sri Lanka.
He said he hopes the two countries will make concerted efforts to promote their comprehensive relations of cooperation and partnership to even higher levels.
The US is scheduled to move a resolution at the UN Human Rights Council against Sri Lanka over alleged human rights violations. US had adopted a similar resolution last year with India's support which bound Colombo to make rapid progress on reconciliation with the ethnic Tamils.
According to rights groups, up to 40,000 Tamils were killed in the army's final battle against LTTE rebels.