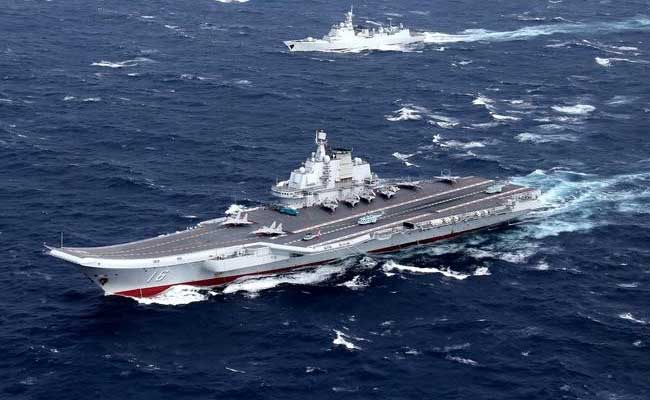 Beijing:
China's sole aircraft carrier sailed out of the Taiwan Strait on Thursday morning, a day after Taiwan scrambled fighter jets and navy ships to shadow the carrier group through the narrow waterway separating China from the self-ruled island.
China's Soviet-built Liaoning aircraft carrier, returning from exercises in the disputed South China Sea, had "meticulously operated" during the navigation of the Strait, China's People's Liberation Army Navy spokesman Liang Yang said.
Taiwan said the carrier group did not pose a threat.
The Taiwan Straits passage and naval drills comes at a time of heightened tension between the two sides, due to Beijing's suspicion that Taiwan President Tsai Ing-wen wants formal independence from China.
Taiwan had said the Chinese ships did not enter its territorial waters but did sail into its air defence identification zone.
China has claimed sovereignty over Taiwan since 1949 when Mao Zedong's Communists drove Chiang Kai-shek's defeated Nationalists to the island.
Tensions between the two sides have played out in the strait several times since then, including when China conducted military exercises there in 1995 and 1996, prompting the United States to send warships to the waterway.
The Liaoning carrier group, "visiting the South China Sea to conduct cross-maritime region drills and tests, has passed through the Taiwan Strait and continues with its further duties," Liang said in a short statement on the Defense Ministry's website.
China has said the Liaoning was on an exercise to test weapons and equipment in the South China Sea and that its movements complied with international law.
The latest Chinese exercises have unnerved Beijing's neighbours given the long-running territorial disputes in the South China Sea.
China claims most of the energy-rich waters of the South China Sea, through which about $5 trillion in ship-borne trade passes every year. Neighbours Brunei, Malaysia, the Philippines, Taiwan and Vietnam also have claims.
(Reporting by Michael Martina in Beijing and J.R. Wu in Taipei)
© Thomson Reuters 2017
(This story has not been edited by NDTV staff and is auto-generated from a syndicated feed.)