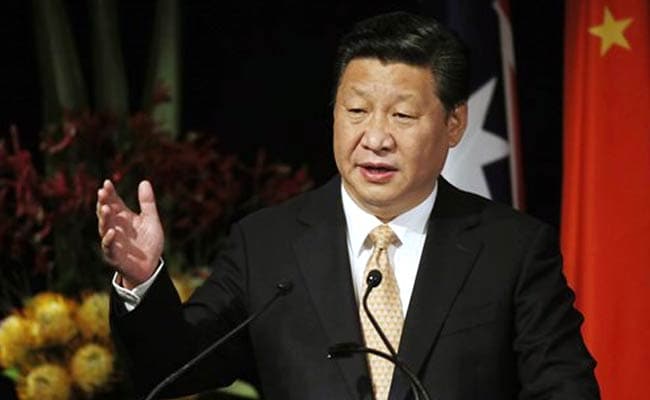 Washington:
China's souring foreign investment climate, "unfair" trade practices and lack of progress on reforms increased economic tensions between the United States and Beijing in 2014, a US commission concluded today.
Security ties between the two world powers also deteriorated this year amid South China Sea turmoil, increased territorial disputes and potentially lethal China-US military confrontations that risked escalating into a "major political crisis," the US-China Economic and Security Review Commission (USCC) said in its annual report to Congress.
Reports by the commission, comprised of former US lawmakers, ex-government and White House officials, and other experts, have in the past irritated officials in Beijing, where ties with Washington are under a microscope.
President Xi Jinping's government "made minimal progress in implementing these reforms in 2014, and it remains unclear whether the Xi government will accelerate reform in 2015," USCC said in its 599-page report.
Despite China's economy growing at or near its official target rate of 7.5 per cent for most of 2014, "the government failed to address China's underlying structural problems, such as oversupply, overcapacity, mounting local government debt, and asset bubbles that put its economy at risk of a sharp slowdown or 'hard landing,'" the commission added.
China's massive economy is dependent on exports for growth, "a policy supported by an undervalued currency (which) has resulted in China's accumulation of record foreign currency reserves, and contributes to global trade imbalances," according to USCC.
The policy has pinched US opportunities to boost exports to the Asian giant.
"In 2014, Chinese direct investment flows into the United States exceeded US investment into China for the first time as foreign firms faced an increasingly hostile investment climate in China," the commission said.
Despite Washington using diplomacy and enforcement tools to address China's unfair practices, "Chinese trade violations continue and the bilateral trading relationship grows more lopsided."
China in 2014 shipped nearly four dollars worth of goods to US shores for every dollar worth of US imports, helping create the world's largest bilateral deficit -- three times the size of the second largest US deficit, with Japan.
By the end August, the US trade deficit with China stood at $216 billion, some $8.5 billion more than the same time last year and on pace for another record high.
"Unfortunately, the United States too often chooses dialogue with China over strong enforcement measures," the commission noted.
Foreign direct investment in China has suffered in the first eight months of this year, decreasing by 1.8 percent from the same period in 2013, the commission said.
'Aggressive behavior'
The report also addressed China's increasing influence in the pharmaceutical and drug ingredient industry and rare earths essential for manufacturing.
And it shed light on how the "increasing impact of Chinese media and Internet censorship on US company operations and profits both within China and abroad has denied some US businesses market access and forced other US businesses to reduce activities in China."
It also said China invested $3.2 billion in the US energy sector last year, but there has been "a troubling lack of reciprocity," with Beijing prohibiting foreign companies from investing in Chinese energy firms.
And "with a few exceptions, the US-China security relationship deteriorated in 2014 as well," the report said, citing turmoil in the East and South China Seas including China's territorial disputes with US treaty allies Japan and the Philippines.
"On several occasions since late 2013," Chinese military aircraft and ships have confronted US military aircraft and vessels.
"On each of these occasions, Chinese military personnel engaged in unsafe, unprofessional, and aggressive behavior that could have resulted in the loss of life or a major political crisis."
The report offered 48 recommendations, including urging Congress to pass legislation that remedies injuries to US firms caused by "anticompetitive actions of foreign state-owned companies."
On the security front it urged Congress to fund increases in the US Navy's presence in Asia Pacific so it can maintain readiness and "offset China's growing military capabilities."