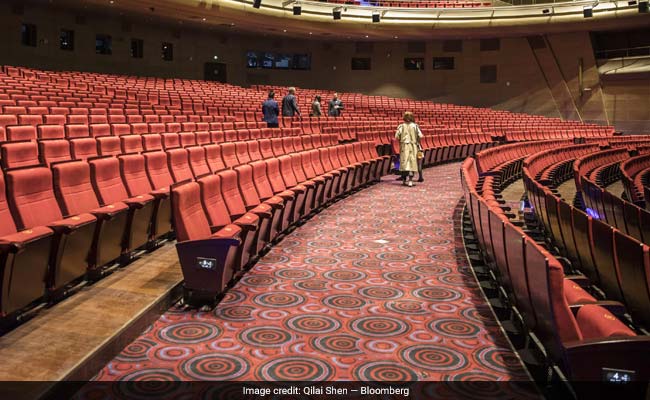 Four gigantic, Chinese characters are aligned on a hill overlooking a seaside film studio complex, in a nod to the fabled Hollywood sign, the American cultural icon in Los Angeles.
Except this is northern China's port city of Qingdao, where Dalian Wanda Group, a real-estate, retail and entertainment conglomerate, is opening its doors to an audacious $7.9 billion (50 billion yuan) world-class film production hub, called the Oriental Movie Metropolis, or Dong Fang Ying Du.
The project boasts the world's largest studios, a commercial complex covered with giant portraits of Charlie Chaplin, Marilyn Monroe and Bruce Lee. There's also a reclaimed island full of hotels, condos, two theaters and a yacht club.
It all adds up to China's largest and glitziest effort yet to attract Hollywood filmmakers to work their magic using domestic film-production studios -- the sort of move that can enhance the nation's "soft power" and cultural reach on the global stage. For Wanda's billionaire chairman Wang Jianlin, who has dialed back his ambitions to build an entertainment empire thanks to debt pressure, a lot is riding on the success of the complex.
On Saturday, executives from major studios in Hollywood and China came to Qingdao, a city best known for its namesake beer, for the opening ceremony. It comes as the Beijing-based conglomerate has seen its debt-fueled, global shopping spree curtailed by the Chinese government.
As Wang, 63, presided over the festivities, he said it will become a new hub for global film making.
Making the complex a global magnet for film-making will be a challenge, according to Sun Hengqin, chief president assistant of Wanda Film Group and the head of the movie metropolis. "We have yet to figure out a clear strategy to attract Hollywood and other foreign filmmakers," Sun said. "Yes, we'd love them to come and shoot their films here, and we will study what are the factors that prevent them from coming and improve our services accordingly."
The studios have been partially open since the second half of 2016 and have hosted the production of 10 films. Other than Wanda's Legendary Entertainment, no big Hollywood studio has produced a movie in Qingdao. Most of the productions have been Chinese films, albeit some of them with big budgets, such as "Feng Shen," a 3 billion yuan trilogy based on an ancient Chinese mythological novel.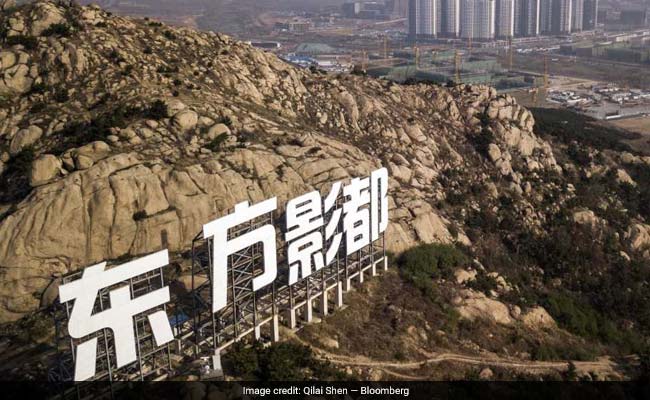 "We plan to position ourselves first for the domestic market before going overseas," said Sun, a former local government official. "Feng Shen," he said, will occupy half of the studios' 30 sound stages for the next two years and that five to six other Chinese films have committed to using the facility this year.
The entire complex spans an area of 929 acres (376 hectares), according to a Wanda statement in 2013, when the project broke ground with Hollywood glitterati such as Leonardo DiCaprio, Nicole Kidman and now-disgraced producer Harvey Weinstein.
Wang, once the richest men in China, has spent big in his bid to become a movie industry mogul, starting with his acquisitions of AMC Entertainment Holdings and Legendary. Now, he's in retrenchment mode after debts ballooned and the government began scrutinizing his business empire. Last July, Wanda sold a majority stake in Oriental Movie Metropolis to Sunac China Holdings, a Chinese real-estate developer, together with 12 theme parks across the country.
Wanda still retains branding and management rights to the Qingdao studios and the 12 other projects. However, the operation has had its share of speed bumps. The studios have had seven different CEOs since 2015, and most of the international staff hired to help bring operations on par with Hollywood standards have left, according to people familiar with the matter, who asked not to be named discussing sensitive matters. A Wanda official who declined to be named said it took time to find the right team and that the Qingdao studios are open to the world with or without international staff.
There's no lack of film and TV work in China, the world's second-largest box office and the world's biggest producer of TV dramas. The Qingdao studios do have one big competitive edge: a 5 billion yuan incentive program jointly funded by Wanda and the Qingdao government, according to April Ye, China Chief Executive Officer of Film Finance Inc., a California-based company that's worked with Wanda and helps independent filmmakers raise funds.
"This is the first time in China that authorities and the private sector join hands to invest such enormous resources for the development of the film industry," she said. "There's a big opportunity to set things right from the beginning, as well as lots of challenges to get there."
Another positive development: Residential condo sales at the development could get a boost from a robust local property market.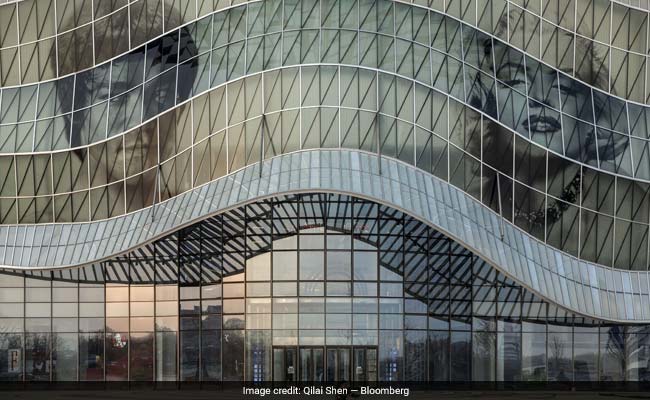 The $800 million rebate program, jointly funded by Wanda, Sunac and the local governments, hasn't paid out to any of the 10 films produced there. Sun said the first batch of cash rebates has been approved and more than 10 million yuan will be remitted soon to "The Great Wall," the biggest film co-produced by Chinese and U.S. studios and whose production took place on the same piece of land the movie metropolis now occupies before its construction.
The studio expects to host around 100 film and TV productions each year, according to a Wanda statement on Saturday.
"The studios are enormous and absolutely first class," said Aaron Shershow, line producer of Legendary's "Pacific Rim: Uprising," so far the only big Hollywood film produced in Qingdao. "I've been disappointed to see there haven't been more foreign productions and I think the reason is they haven't done a very good job promoting the rebate."
This means Qingdao could have a hard time competing against other popular locations such as Canada, the U.K. and several U.S. states that have had competitive incentive programs and geographical and legal edges.
Big-budget films have increasingly shifted production from California to other locales, according to a study by Film L.A. Inc., the official film office of Los Angeles. Instead, British Columbia, U.K., and U.S. states such as Louisiana and Georgia have become increasingly popular for major Hollywood studios, the studies show.
"Financial incentives have become the top factor that affects the choice of a shooting location," said Film L.A. research analyst Adrian McDonald. "Producers can get very skittish if the incentives are not fully funded or set up."
Wanda's Sun said both the Chinese company and the Qingdao government are committed to the fund and that they are finalizing the criteria for the cash subsidies. One prerequisite to be included is securing theatrical release permit in China, he said. This means films will have to surmount Chinese censorship, something that makes the rebate "far from guaranteed," according to McDonald. "That's not going to make anyone in Hollywood happy," he said, adding that a theatrical release requirement is not common among global film-making incentives.
It "may take a little while for the international community to feel more confident to place their projects" in Qingdao, according to David Shepheard, Vancouver Film Commissioner. The Canadian city has earned a nickname of "Hollywood North" for its proximity to the U.S., tax incentives and a deep talent base, he said.
China has agreed to bring in every year at least 34 foreign films and share their Chinese box-office revenues with American studios. But the country rarely imports beyond the minimum, making 34 an effective quota and a source of gripes from Hollywood producers. Rising trade tensions between the two economies have complicated the likelihood of renegotiating the figures.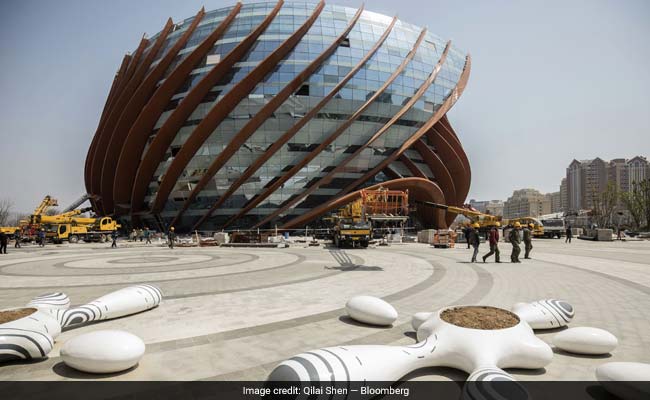 Movie makers can bypass this by securing a "China-foreign co-production" status with Chinese authorities. Conditions include shooting in the country, casting Chinese actors in a leading role, financing the film with Chinese capital and featuring substantial "Chinese elements." Legendary's "Pacific Rim: Uprising" was almost tailored to fit such criteria but the film failed to secure the co-production status, illustrating the challenges in navigating the rules set by China's film and propaganda authorities.
Making at least one movie a year in China allows Hollywood studios to show their support for the country's film industry. Call it an act of "film diplomacy," said Chris Fenton, a Trustee of the DC-based US-Asia Institute and the former president of studio DMG Entertainment. In return, overseas studios may get more releases, earlier access for marketing and promotion, or longer theatrical releases, he said.
Sun said he's studying government policies and plans to go on roadshows to U.S., Canada, Japan, South Korea and Hong Kong to promote the studios. He likened the Qingdao studios' challenges to China's initial difficulties in attracting foreign investment in the 1980s and 1990s. In time, they were overcome.
"The Oriental Movie Metropolis at present is just a beginning. In five to 10 years' time, we will become entirely different," Sun said.
(This story has not been edited by NDTV staff and is auto-generated from a syndicated feed.)