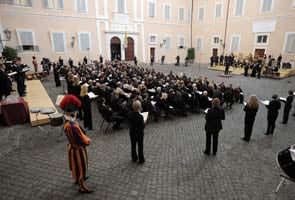 Vatican City:
Pope Benedict XVI on Tuesday accepted the resignation of Chilean bishop Marco Antonio Ordenes Fernandez, who is suspected of sexually abusing children, the Vatican said in a statement.
Mr Fernandez is suspected of abusing more than one adolescent when working as a rector in the Tarapaca region in northern Chile, according to the religious information agency I.Media, which said the Vatican was investigating the claims.
On Saturday, the 47-year-old bishop gave an interview with La Tercera daily in which he admitted having had an "imprudent" attitude in his relations with one adolescent, but insisted that he had not been a minor.
Mr Fernandez was ordained by Benedict in 2006.
Sex abuse claims against priests have in recent years plunged the church into the worst crisis in its 200-year history.
Hundreds of priests have been implicated in dozens of countries, and the Church has been accused of protecting known offenders.
Chile's Catholic church last year formally apologised for the abuse cases and the way they had dealt with allegations.