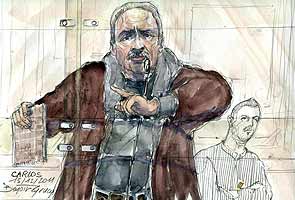 Paris:
Ilich Ramirez Sanchez, the Venezuelan better known to the world as Carlos the Jackal, returns to court here on Monday to appeal his conviction for a series of deadly bombings in France thirty years ago.
The 63-year-old, who has been imprisoned in France since being captured in Sudan in 1994, was found guilty in 2011 of masterminding the 1982 and 1983 attacks on two French passenger trains, a train station in Marseille and a Libyan magazine office in Paris.
Already serving life for murder at the time, Carlos was given another life sentence for his role in attacks that left 11 people dead and nearly 150 injured, earning him the mantle of the world's most wanted fugitive.
The 1982-83 bombings in France were widely believed to have been carried out in retaliation for France's detention of two fellow members of a militant group Carlos ran with the support of East Germany's notorious secret police, the Stasi.
But prosecutors in France were struggling to secure the evidence they needed to secure a conviction until the release of secret Stasi files in the years that followed the collapse of communism and German reunification.
At the heart of Carlos's appeal will be a claim that the evidence garnered from these files is fundamentally unreliable.
The panel of judges that will hear the appeal will also review the acquittal of Christa Frohlich, a 70-year-old German, of charges of involvement in one of the attacks.
Frohlich was tried in absentia in 2011 and has informed the court that she will not be attending the appeal, which is scheduled to run until the end of June.
At his first trial, Carlos denied any involvement in the 1982-83 bombings while issuing a series of ambiguous pronouncements about his role as a "professional revolutionary" waging a war for the liberation of Palestine and other causes.
In numerous interviews he has given over the years, he has claimed responsibility or involvement in dozens of attacks in which hundreds of people have died.
After years on the run from western security services, he was finally arrested in Sudan in 1994 and transferred to France, where he was convicted three years later of the 1975 murder in Paris of two members of the French security services and an alleged informer.
He could yet face a third trial in France as an examining magistrate is still investigating the 1974 bombing of the Drugstore Saint-Germain in the centre of Paris, which left two people dead and 34 injured.
Against that background, he is seen as unlikely to be released any time soon.
He has not given up hope of securing a transfer to custody in his native Venezuela but it is hard to envisage France sanctioning such a move, given the outrage it would inevitably trigger.
Venezuela's late leader Hugo Chavez was a strong supporter of Carlos, describing him as a revolutionary who had been wrongly convicted.
Carlos has spent several years in solitary confinement but his prison conditions in France have, of late, been much more comfortable.
At the Centrale de Poissy in the western suburbs of Paris, he spends his time reading, taking philosophy and literature classes and talking with his many visitors, according to one of his lawyers, Francis Vuillemin.
"It is similar to the life of a monk in an abbey," Vuillemin said.
According to Aude Simeon, a former teacher in the prison, the monk's life also includes access to cigars and Venezuelan coffee served in his cell.
In a memoir entitled "Teacher to the convicts", Simeon describes Carlos as a very polite and courteous man who could also appear as a "slightly childish know-it-all."