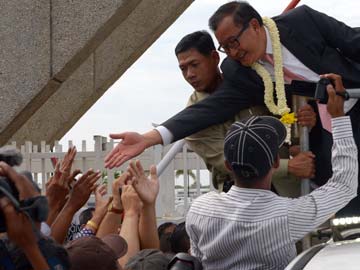 Phnom Penh, Cambodia:
Cambodia's opposition leader on Saturday called for an end to a year-long political crisis, after a slew of arrests of rivals of strongman premier Hun Sen triggered international alarm.
Thousands of people turned out to greet Cambodia National Rescue Party (CNRP) head Sam Rainsy, who cut short an overseas trip in response to an escalating crackdown on the opposition.
Rainsy demanded the release of eight CNRP politicians facing insurrection charges "immediately and without any conditions".
"We must find a political resolution because our country has been in deadlock for a year," Rainsy told a sea of cheering supporters.
The opposition has boycotted parliament since a contested election in July 2013 which triggered allegations of vote-rigging.
Analysts say the arrests could be an attempt by Hun Sen's ruling Cambodian People's Party (CPP) to push the opposition to return to mainstream politics.
Rainsy said he aimed to break the stalemate by the July 28 anniversary of the polls.
"I have a plan and the willingness to resolve the political dispute," he said.
He called for the creation of a new election body that would include CNRP members to ensure there is no fraud or vote stealing in the future.
He demanded a new election be held, "the sooner the better", after the reform of the National Election Committee, which has been accused of bias in favour of the ruling party.
Hun Sen, 61, who has been in power for nearly three decades, is regularly criticised by campaigners for ignoring human rights and crushing dissent.
Rights groups have denounced the "trumped-up" insurrection charges against the opposition politicians, who include seven MPs-elect and could face up to 30 years in prison if convicted.
An estimated crowd of more than 10,000 supporters greeted Rainsy, who had travelled to France in mid-June for "diplomatic affairs" according to his party.
They marched through the capital Phnom Penh to the opposition headquarters amid a light police presence.
The arrests are linked to a violent demonstration on Tuesday against the closure of Phnom Penh's "Freedom Park" -- the capital's main designated protest site.
At least 40 people, mostly security guards employed by the local authorities, were injured during the clashes.
Deputy opposition leader Kem Sokha has been summoned by the Phnom Penh Municipal Court for questioning next week in relation to the unrest.
The United Nation's human rights office said Friday it was "alarmed" by the arrests and urged Cambodia to investigate the clashes.
"Any politically motivated charges must be dropped immediately," spokeswoman Ravina Shamdasani said.
The United States also condemned the violence and called for the release of the opposition officials.
"We once again urge the Cambodian government to lift the ban on demonstrations and allow for the peaceful exercise of freedom of assembly," State Department spokeswoman Jen Psaki said.