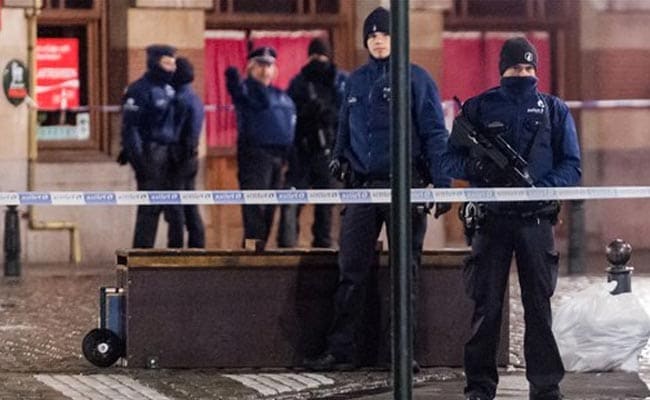 Brussels:
The search for a key suspect in the Paris terror attacks kept the Belgian capital in an unprecedented lockdown that brought business to a standstill as European leaders vowed to tackle the crisis at its roots in Syria.
The clampdown in Brussels continued for a third day on Monday after a series of raids overnight by counter-terrorism special forces failed to find Belgium-born Salah Abdeslam, one of two brothers believed to have been involved in attacks that killed 130 in Paris on Nov. 13. Belgium's government warned of a continuing, serious threat to the public.
"What we expect is an attack similar to the one that unfolded in Paris with multiple people who launch offensives in many places at the same time," Belgian Prime Minister Charles Michel said late Sunday. The threat is "very serious and imminent."
The Belgian capital of around 1.2 million people was quiet -- with schools, shops, banks and the metro system closed -- as European governments prepare to carry out airstrikes against Islamic State at its bases in Syria. France, where the government extended a state of emergency for three months, put naval forces in position to bomb Syria, while the U.K. offered Britain's airbase in Cyprus for the military operations.
"The U.K. will do all in our power to support our friend and ally France to defeat this evil death cult," Prime Minister Cameron told reporters in Paris after meeting with French President Francois Hollande. "It's absolutely right to take decisive action to stop terrorists."
The decision to keep Brussels on a heightened state of alert extended the disruption to the North Atlantic Treaty Organization and the European Union, both of which have their headquarters in the city. NATO told non-essential staff to stay at home, while the EU opened with reinforced security. KBC Groep, Belgium's biggest bank, closed its headquarters in the capital on Monday.
"We are working from home and from our disaster recovery dealing room to avoid public places in Brussels," said Piet Lammens, global head of market research at KBC. "I hope we'll be back in the office tomorrow. We'll evaluate the situation later today. I'm not afraid."
Brussels has been on its guard since it emerged that at least three jihadists behind the Paris assaults lived in the city. Abdeslam, who's now the focus of an international manhunt, comes from the Molenbeek district of the capital. Counter- terrorism officers carried out 22 simultaneous raids in Brussels and the Belgian city of Charleroi, federal prosecutor Eric Van der Sypt told reporters early Monday. They detained 16 people, none of whom was Abdeslam, and didn't find any explosives or other armaments, he said.
The center of Brussels was filled with gun-toting soldiers, while green army vehicles made their way through snarled traffic outside buildings housing European institutions. Security guards stood outside supermarkets, which reopened after closing over the weekend.
"Bombs, shooting, Brussels being the center of the world, it's strange -- everyone is scared," said Raphael Van Antwerpen, who runs a cafe in the heart of Brussels. "I'm most worried about my daughter," whose school just outside the capital is open, he said.
At the building housing the European Commission, the EU's executive arm, police used a mirror on a stick to check under vehicles, while armed soldiers guarded the entrance. Finance ministers from the 19 nations using the euro are going ahead with a scheduled meeting in Brussels on Monday afternoon.
"A terror alert or any similar situation makes it all the more pressing on the affected state leaders to be seen to be taking charge," Maltese Finance Minister Edward Scicluna said in an email. "The eurogroup finance ministers' meeting is no exception."
After seeing Cameron on Monday, Hollande will meet President Barack Obama in Washington on Tuesday and German Chancellor Angela Merkel in Paris on Wednesday. He'll travel to see Russian President Vladimir Putin in Moscow on Thursday.
Cameron said in Paris that he'll present a "comprehensive strategy" to the British Parliament this week for tackling IS in Syria. He's seeking approval from lawmakers to join in airstrikes. French Defense Minister Jean-Yves Le Drian told Europe 1 radio that planes from the aircraft carrier Charles de Gaulle would be ready to carry out strikes beginning Monday.
In Brussels, store owners are wondering how long these extraordinary measures will continue. Michael Raynaekers has run a flower shop near the European Commission for the last 18 years. His clients are mostly the big offices nearby, and he's worried: these are normally his three busiest weeks.
"Business will be less than 50 percent today," he said in his store filled with baubles and other Christmas decorations. "People are scared. Just look at the streets, they are empty."